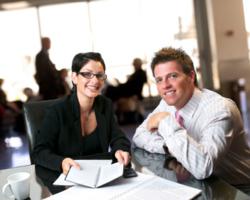 Businesses need to look at where they can make improvements within their own organisations by identifying problem areas and streamlining operations.
(PRWEB UK) 15 March 2012
IRIS Exchequer is offering SMEs a checklist to help plan successful financial management.
The three key points, the brainchild of Paul Sparkes, Accounting Software Product Director IRIS Accounting & Business Solutions, discusses the key steps of successful financial management for SMEs.
Paul Sparkes comments: "Running a small business isn't easy in the current economic climate. There is a lot of pressure for SMEs to boost the economy and create jobs, but there isn't much help and advice for them to do so."
IRIS Exchequer named 'Best rated accounting product catering for businesses in the medium range' in an authoritative survey by the ICAEW (Institute of Chartered Accountants in England and Wales) provides a number of free resources to businesses including financial guides and whitepapers.
The latest guide looks at where businesses can make improvements within their own organisations by identifying problem areas and streamlining their operations.
Key points, Paul Sparkes suggests to keep on any business check-list include:
"Making financial health a company-wide concern
Monitoring the financial health of a business has traditionally been a responsibility for the finance teams. However with a changing business environment, businesses need to make sure that everyone is involved and that necessary processes and policies are in place to nip any possible issues or debt in the bud before any serious damage can be done. Putting policies in writing and circulating them regularly to staff, will make clear a member of staff's role in tightening the noose on bad business debt. As a starting point, selling to customers – even long-standing customers - without checking their account and credit status should be a strict taboo.
Scrutinise the client base
Businesses should look to review the client base to identify which customers are profitable and which are not. This could lead to some tough decisions; however, as difficult as it is, a business will never stay on top of its finances and thrive if a business works with clients who drain profit levels rather than adding to them. Instead, focus on those that are most profitable, it's worth taking time to step back and analyse each client or customer the business works with and the value brought to the business. By doing this, a business will be well placed to decide where to invest resources for optimum return, both in retaining clients and pursuing new business opportunities.
Analyse where internal processes are undermining profitability
As well as identifying which clients are affecting profitability, businesses need to consider how internal processes could be streamlined to improve efficiency and reduce costs. Are resources being deployed to the best effect? Can managers or team leaders spot instantly where expenses are becoming out of line with available budget? With vigilant monitoring, businesses will be able to keep costs on track and increase profits by avoiding revenue leakage.
Clever technology and accounting software will go some way towards helping businesses to make these decisions and streamline operations, but it also takes determination and discipline from businesses themselves if they are to really see the benefits from these changes."
Paul Sparkes is Product Director IRIS Accounting & Business Solutions
http://www.exchequer.com
About IRIS Exchequer:
IRIS Exchequer is a mid-market business and finance management solution that has received a number of awards over the years. Awards success includes winning 'Financial Software Provider of the Year' in the Real Finance/CBI FDs' Excellence Awards 2011, 2008, 2006 and 2005.
IRIS Exchequer was named the 'Best rated accounting product catering for businesses in the medium range' in an authoritative survey by the ICAEW (Institute of Chartered Accountants in England and Wales), the industry body which also accredits IRIS Exchequer.
To find out more about IRIS Exchequer http://www.exchequer.com
For further information, please contact:
IRIS Accounting & Business Solutions
0844 815 5600
0844 815 5592
http://www.exchequer.com