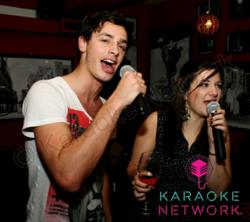 The Newest and Best Website for Karaoke in London
(PRWEB UK) 1 March 2012
To cater for the ever-growing demand for Karaoke in London, Karaoke Network has launched a new London Karaoke website. The new website showcases all of Karaoke Network's chic and intimate Karaoke venues with a combination of professional photos and concise information, including food and drinks menus and customer reviews. In doing so, the website makes it easy for customers to visualise what a karaoke party would be like at each venue.
The new website has an online booking tool, showing real-time availability of karaoke rooms in each of Karaoke Network's venues. The site also features a gallery which is constantly updated with pictures from previous karaoke parties, giving visitors to the site a real feel of the atmosphere they can expect at their own private karaoke party. The Karaoke Network's 9,000+ strong song list can also be downloaded from the site in preparation for a party.
To accompany the website launch, Karaoke Network has also launched a Facebook page, Twitter feed and YouTube channel. These allow Karaoke Network to reach a broader audience and keep them updated with current deals and exciting London Karaoke related news.
Karaoke in London has become a mainstream activity in recent years. With entertaining and quirky sub genres, such as Hip-Hop Karaoke and Bollywood Karaoke being added to the mix, Karaoke is now reaching new markets and audiences. The main catalyst for the industry was the opening of the first private karaoke bar in Soho 10 years ago. Since then private Karaoke Bars, which allow customers to have all of the fun associated with Karaoke, without any of the associated awkwardness of performing in front of strangers, have sprung up all over the Capital.
Karaoke Network's mission is to get "the whole of London singing" and its new website will certainly help in this regard. Karaoke Network's new site is easy to use and fun - just like its private Karaoke parties.
Karaoke enthusiasts who are interested in learning more about Karaoke Network, its Karaoke venues and to book a Karaoke party, please visit karaokenetwork.com.
Karaoke Network: Karaoke Bars and Karaoke Restaurants in London for Private Karaoke Parties.
Follow Karaoke Network on Twitter: @karaokenetwork
Like Karaoke Network on Facebook: facebook.com/karaokenetwork
# # #