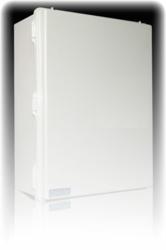 It's All In The Algorithm," says Goldstein. "The Smart Fog CPLC++ control mechanism provides a new level of accuracy and reliability to the industrial environment control with no need for calibration or human intervention.
Reno, NV (PRWEB) March 23, 2012
Smart Fog Inc. announced this week the release of CPLC++ the latest line in industrial environment control. The release of the CPLC++ marks a new standard in building automation and environment control.
"Our goal in the development of CPLC++ was to eliminate the human factor and provide the easiest and precise control for the most complex and extreme environments. Once the customer selects the desired level of relative humidity the CPLC++ takes over and no further human input is ever required," explains Ido Goldstein, director at Smart Fog.
Traditionally building automated and environment humidity control has been accomplished through utilizing timers, logic or Proportional–integral–derivative (PID). PID is a generic control feedback mechanism which is widely used in industrial control systems. To be efficient PID needs tuning and in unstable conditions needs re-tuning. These tuning cannot be accomplished without field testing and expert human input to gain accuracy and efficiency. In the most critical applications, this type of mechanism leads to under and over shooting the desired levels of control and in many instances causes undesirable condensation.
"CPLC++ incorporates algorithms, which intelligently adapt to any environment. The unit has been put under an extensive 12-month testing in a heavy air exchange clean room and critical data center environment. The graphs show no downtime and accuracy of +/- 1% throughout the targeted space for the entire period." says Goldstein.
The new innovative CPLC++ controller has a complete green footprint meeting all electronic safety guidelines and requires no maintenance. Apart from the significant energy and water conservation, the `set and forget` feature provides peace of mind.
The CPLC++ is now available as an accessory to Smart Fog's ES100 Direct Space Commercial Humidifier and the ES100 HVAC In-Duct Industrial Humidifier.
About SmartFog
In business since 1980, Smart Fog Inc. is the recognized world leader in the industrial and commercial humidification systems' industry. And, all products are manufactured in the U.S.A.
For more information, visit: http://www.smartfog.com.