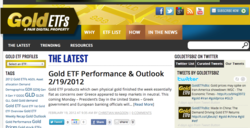 Convenient, consistent and thoughtful content on gold ETF products and the markets they track delivered each week for free.
Lisle, IL (PRWEB) March 07, 2012
GoldETFs.biz has a launched a free weekly Gold ETF Newsletter available to all investors. Its mission is to help investors navigate gold markets and the 20 plus ETFs and ETNs tracking them. This weekly update includes access to a comprehensive gold ETF list, performance figures for ETFs investing in physical bars of gold and gold stocks as well as analysis and commentary on gold prices over the past week.
"Visitors to GoldETFs.biz must simply input their email information into the "Free Email Newsletter" box on the top right of the website," said Christian Magoon Publisher. "This valuable resource will allow investors to quickly gain insight into gold's recent movements and the performance of the related gold ETFs tracking it."
The inspiration for GoldETFs.biz comes from the experience of Christian Magoon, an ETF insider and investment commentator to various financial media outlets. Christian understands that gold is a widely followed subject that is often full of noise, politics and other hidden agendas. He has designed GoldETFs.biz to be a straightforward investor resource for insight and data about gold ETFs and the markets they track.
About GoldETFs.Biz
GoldETFs.biz is a part of the growing suite of ETF properties powered by PAIR Digital, which include IndiaETFs.com. These properties were founded by Christian Magoon to pair investors with the investment knowledge they seek. They accomplish this goal through focus, education, expertise and the use of social media channels including YouTube, Facebook, Twitter, and Google+.