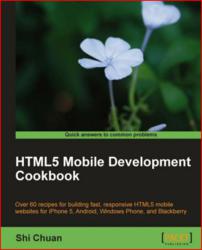 Birmingham, UK (PRWEB) March 04, 2012
Packt welcomes you to the exciting world of emerging mobile web technologies using the latest HTML5 Mobile Development Cookbook. Written by Shi Chuan, this guide will teach users how to build HTML5 mobile websites for devices such as iPhone 5, Android, Windows Phone and Blackberry.
HTML5 is the fifth revision language used for structuring and presenting content for the World Wide Web. The HTML standard defines a single language that can be written in HTML and XML and attempts to solve issues found in previous iterations of HTML as well as address the needs of Web Applications.
HTML5 Mobile Development Cookbook will enable developers to plan, build and debug mobile websites that work across a range of platforms. It also allows them to integrate these websites with Facebook and Twitter.
Readers will be able to build a rock-solid default mobile HTML template and understand mobile user interaction with geo-location based applications. Packed with recipes which include leveraging HTML5 multimedia features such as Canvas and SVG, this book ensures performance optimization.
Some of the chapters emphasized in this book are;
Chapter 1: HTML5 and the Mobile Web
Chapter 2: Mobile Setup and Optimization
Chapter 3: Interactive Media with Mobile Events
Chapter 4: Building Fast and Responsive Websites
Chapter 5: Mobile Device Access
Chapter 6: Mobile Rich Media
Chapter 7: Mobile Debugging
Chapter 8: Server-Side Tuning
Chapter 9: Mobile Performance Testing
Chapter 10: Emerging Mobile Web Features
Packt Publishing has also released and is due to publish other HTML5 books:
HTML5 Canvas Cookbook (published)
HTML5 Games Development by Example: Beginner's Guide (published)
Learning Adobe Edge (due)
All HTML5 books published by Packt share the experiences of your fellow IT professionals in adapting and customizing today's systems, applications, and frameworks. Packt is a modern, unique publishing company with a focus on producing cutting-edge books for communities of developers, administrators, and newbies alike.
# # #