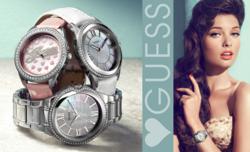 Express your devotion by giving your love some hearts to wear.
Norwalk, CT (PRWEB) March 07, 2012
This seductive season of flirtation and admiration is summarized with a collection of romantic styles by GUESS. Whether your lady loves pretty pink hearts or classic clean silhouettes, GUESS Watches has an enchanting style to fit her every desire.
Every GUESS girl loves a little sugary sweetness, especially as an accessory. A courtship of faux candy-coated pink enamel accents and dotted crystals are joined together by Stainless Steel chain links in this delicious new style. The perfect piece to show how sweet your sweetheart really is.
Express your devotion by giving your love some hearts to wear. A bezel of lady-like bling accentuates a soft pastel pink croco-grain strap of Genuine Leather and a white logo glitz dial. Matching pink heart details on the dial give this piece an extra punch of passion; a constant reminder of how much you truly love her.
This season you don't need to wait for the sun to go down to relish in the romantic twinkle of moonlight. You can now give your GUESS girl her own piece of romance to enjoy both day and night. Available in a chic polished Stainless Steel bracelet or a form fitting wondrously white Genuine Leather croco-grain strap, each variation displays a delicate arrangement of glistening crystals surrounding a timelessly refined Mother-of-Pearl dial. A chic certification of your love.
Show that special someone you will love her till the end of time with an all new timeless accessory from GUESS Watches.
About GUESS Watches:
Guess Watches is a timekeeping accessory company with a focus on lifestyle driven fashion. Guess Watches launched its first collection in 1983 with a line of men's and women's fashion watches. Constant attention to new ideas and cutting-edge design keep the brand relevant to today's trends.