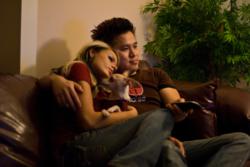 Never let race be a factor in how people perceive you, regardless of the situation.
New York, NY (PRWEB) March 02, 2012
There is a new Asian Sensation taking New York City by storm, and ABC's Nightline news with Juju Chang is taking a closer look to see if he is the real deal.
This Friday night, Nightline will follow renown dating coach JT Tran and his team from the ABCs of Attraction as he takes a group of young men around NYC with the hopes of turning zeroes into social heroes. On hand to help will also be instructor Gareth Jones, wing-girl Sarah Ann, and daygame coach, Ozzie.
"I feel a certain kinship with Jeremy Lin in that I am really the only Asian man out there in the dating coach game, just like he is really the only Asian man in the basketball game right now," Tran said.
"We both have a lot to prove and I really admire what Jeremy has endured. Just as recently as two weeks ago before the Linsanity, I was using him as an example in my presentation of a positive Asian American male role model on how to crack the Bamboo Ceiling at the Wharton School of Business at the University of Pennsylvania."
After a revealing biography in the New York Magazine, Tran's story has captured the attention of thousands of people across the nation, and Nightline is aiming to take a closer look into what makes his company- the ABCs of Attraction- tick.
One of his main objectives is to turn around the stereotypes that face all Asian men in American society. He feels that among minorities, Asians, in particular, are painted by Hollywood and the media as asexualized drones instead of the active, vibrant members of the community that they are.
With more than seven years in the industry, Tran is one of the best known "Pickup artists" (made famous by Erik von Markovik or Mystery on the VH1 show "The Pickup Artist" and New York times best selling book "The Game: Penetrating the Secret Society of Pickup Artists" by Neil Strauss) in the world, and while his methods are often deemed controversial, they yield undeniable results. To Tran, the young 30 something Dallas native, the work is more of a personal calling than anything else.
Growing up as an Asian-American man in Texas, finding his inner romantic prowess was a struggle, and often troubling task made even more difficult by Southern racism, discrimination and prejudice, Tran said. Through his own experience and personal studies, he was eventually able to create the love life of his dreams, and now wants to pass that knowledge, referred to as the ABCDEF System, to others.
Tran, whose PUA Bootcamp for men that helps bolster their confidence, has been teaching the science of self-improvement and dating for the better part of 7 years. His students have ranged from college kids, doctors, engineers, and even celebrities, and he has made a name for himself as one of the greatest in the world.
"My goal is to allow other men the same opportunities of personal improvement and motivation, and essentially to make them better men, inside and out," he said.
Nightline will take a deeper look into Tran's methods and motives, and just how effective they are in changing the lives of his students tonight.
The episode will air on March 2, 2012 at 11:35pm on ABC. Check your local listing.
To reach Tran or to set up an interview, contact 1-888-689-4263 or media (at) abcofattraction (dot) com.
###