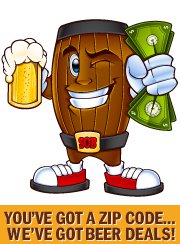 Pro-tip: go heavy on the Irish car bombs – you know, Guinness with a shot of Jameson
Houston, TX (PRWEB) March 12, 2012
Thirsty beer swillers with a U.S. zip code can find cheap beer prices for their favorite brands at SaveOnBrew.com. The company spends hundreds of hours each week gathering advertised beer deals from across the nation. Sales range from Budweiser and Labatt's to Blue Moon and Stella Artois. If it's an advertised beer sale, they probably have it.
With St. Patrick's Day rapidly approaching, Jennifer Davidson of SaveOnBrew.com infamy offers a few tips for saving money on one of America's biggest binge-drinking holidays of the year.
1. Look for cheaper brands. "Imports by nature are not terribly cheap, but one can find a 6-pack of Great Lakes Conway's Irish Aleor Killian's Irish Red Ale for about $7, or Sam Adam's Irish Ale and McSorley's Irish Pale Ale for $8," Davidson explains. "On the other end of the spectrum, premium beers like Guinness, Harp, Murphy's and Smithwick's are going to be priced several dollars higher."
2. Another way to find the cheapest beer is to try one's luck at getting into the spirit of the day. "Let's face it: anyone who dresses like a leprechaun, a Notre Dame Fighting Irish, or a shamrock is going to have random strangers buying him or her beer all night long wherever he or she goes," says Davidson. "The louder, friendlier and Irish-looking a drinker is, the better. Most importantly, do not pose for any free pictures. If they want a leprechaun on their Facebook page, they've got to pay up."
3. Stay at home. "Yeah, I know I'm going to catch some flak for that, but it's MUCH cheaper. Take the money you save, grab a keg of Guinness, invite your best friends and some random hotties, and make a night of it. Pro-tip: go heavy on the Irish car bombs – you know, Guinness with a shot of Jameson – because passing out is a great way to save money and avoid having to stumble to the store to resupply," Davidson laughs.
In addition to finding the cheapest beer prices, the Cheap Beer Blog is guaranteed to make people chuckle with its quirky, humorous and opinionated posts about the unending quest for cheap beer. One can also learn how to cure a hangover, play popular drinking games or improve their health through beer drinking in the "Resources" section. The SaveOnBrew.com online store offers beer pitchers, towers, keg taps, giant glasses and beer pong tables to get the party started.
About SaveOnBrew.Com: Founded in 2010 to help thirsty beer drinkers across the United States find the lowest advertised prices for one of the world's most popular beverages.
###