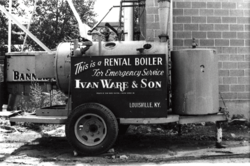 Our belief has always been you can never go wrong by doing the right thing," said Ware
Louisville, Kentucky (PRWEB) March 09, 2012
Sixty years ago, in 1952, Ivan Ware founded his boiler and air conditioning repair and service company. He ran the business out of his home in Louisville. The family station wagon was his service vehicle and his business was mostly residential.
Sixty years later, the third generation of the Ware family still runs the company that has grown to be the largest boiler rental and service company of its kind in the region with 85 employees.
"Our employees have always been the backbone of our business," said Ritchie Ware, vice president and chairman. "Our employees truly have serving our customers in their heart." The average Ware employee has been with the company for 15 years.
Today, Ware offers boiler and chiller rentals, as well as industry leading service; including boiler and chiller installation, repair and maintenance, as well as selling top-of-the line new and remanufactured boilers and equipment.
Throughout the 1960s and 1970s, the company built its reputation on outstanding service and repair and began to focus more on boilers instead of air conditioners and dropped the residential side of the business to focus on commercial and industrial.
Then, in 1971, Ware transformed its business, when the leadership of the company had the idea to offer boilers for rent. This new service gave companies an immediate, temporary option in the case of a boiler outage.Boiler rentals also allowed companies who needed to operate their boilers on an irregular basis, because of the nature of their business, the opportunity to use a smaller or more cost effective boiler.
Starting with a handful of rental boilers in the 70s, today Ware has well over 100 boilers in their rental fleet and the rental business accounts for 50% of their revenue.
Ware also began in the 1980s, to build its parts inventory. Today, Ware carries over 10,000 parts in stock. "It's the job of the parts division to be prepared to handle almost any requirement a customer may have, and in emergency situations, to get a plant back on line as fast as possible," said Ware.
In 2005, Ware introduced their "Super High Efficiency Mobile Boiler" solutions. The system combines state-of-the-art control technology for optimum combustion control and a Kentube Economizer. The Autoflame Combustion Control System is the heart and soul of the new technology.
The Valve Shop
In 2003, Ware expanded with the purchase of The Valve Shop, a comprehensive valve service, assembly and repair facility. The Valve Shop offers testing, diagnosis, maintenance and repair services for all makes and models of valves.
Ware is an authorized assembler for several major manufacturers. With a mobile valve shop that is available 24 hours a day, seven days a week all year, services include complete valve overhaul and in-line relief valve testing.
Ware Boiler University
Ware has always been committed to proper training which led to the establishment of Ware Boiler University in 1991. The training offers hands-on classes designed to provide in-depth training on all aspects of boiler installation, maintenance and repair.
Ware's Boiler University is unique in that the classes are taught by highly seasoned veterans who bring a combined total of over 120 years of experience in the boiler industry.
People have come from all over the United States and the world to attend Ware Boiler University including 49 states, Jamaica, Canada, England and Mexico.
Expansion continues
In 2009, Ware completed construction of new maintenance facility. The 9,200 square foot building has an indoor start-up bay with a hood, drains in each bay and steam, water and gas connections. The new facility also features more connections for welders and a new paint bay facility. The building is has also been fitted for a 40-ton crane, which can be added in the future.
While Ware enjoys looking back at how far the company has come over the last 60 years, he is definitely focused on the future. "We want to continue to expand our rental fleet and continue to add more types and sizes of boilers to our sales side. We are always looking to upgrade our fleet with the most efficient equipment so that our customers can take advantage of technology."
Ware says he and his employees most enjoy the unique projects and challenges that customers call with every day. "We love the hard-to-solve problems…when we really get to use our expertise to help a customer out of a situation," Ware said.
Today, Ware's commitment to their customers hasn't changed. Constantly striving to deliver the best boiler and chiller equipment and service available to customers, is what has always been the impetus for trying something new. The employees of Ware continue to live the family philosophy that began with the company 60 years ago: to serve customers better than anyone else.