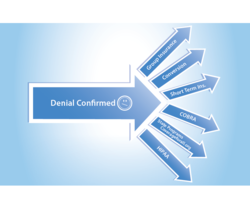 It's never easy telling someone their application was denied.
Santa Rosa, CA (PRWEB) March 22, 2012
On March 20, 2012, KQ Insurance Services announced the launching of a new web page aimed at helping individuals who have been denied health insurance coverage.
The Plight of Denied Customers
"Would you tell me how a person with medical conditions is supposed to find health insurance?" many callers have asked the health insurance agency, often with honest frustration. In 2014, Americans will no longer need to ask. Until then, however, this question is quite common and a very real source of worry for many. Countless adults struggle to find health care coverage due to their health history. Often, these are people whose condition is under control, but when the likelihood of a major medical incident is probable, insurance carriers tend to shy away from offering them health coverage.
What are my options?
The new web page from KQ Insurance Services gives denied applicants ideas on alternatives that may be available to them. "It's never easy telling someone their application was denied. It's a very personal matter that affects not only their ability to receive healthcare, but could also impact their finances," said CEO John Hansen. In looking for ways to meet a very real need, the company researched customers' options after being denied health coverage and listed them on the web. To simplify their search for medical coverage, KQ Insurance Services included an info graphic that provides a visual of their options, plus contact information to reach the various agencies or programs that could provide health insurance.
But I'm already a patient!
Often, current enrolled members on group medical plans who have pre-existing conditions want to switch from their group health insurance to a private health plan. Ironically, a good number of these applicants end up not qualifying for individual or family health insurance because in order to qualify, they must pass medical underwriting. Many protest, "But I'm already a member!" or "But they diagnosed me!" KQ Insurance Services' response is that group insurance and individual-family health insurance are different contracts, so the eligibility requirements are not the same. A person who meets the criteria for group insurance doesn't automatically qualify for individual health insurance because those plans are based on medical history. As such, they can still get a denied application.
Hope Spoken Here
Silver linings are not guaranteed, but neither are they unusual at KQ Insurance Services. Although people who've been denied health coverage may have been upset when they first called, they sometimes end the call happy and with a great sigh of relief. "We work together in exploring options in an effort to help each client find affordable medical insurance. Now and again, we find solutions that fit better than the plan they originally applied for. And that makes for a very good day all around," said Enrollment Specialist Holly Davies.
About KQ Insurance Services
Since 2005, KQ Insurance Services has ranked as one of the top online individual and group health insurance agencies. The company consists of benefits specialists who provide personalized insurance services to individuals and businesses needing assistance with enrollment, quotes, and health plan questions.