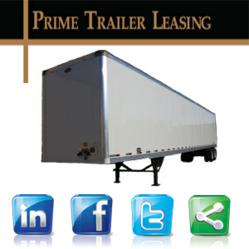 Denver, Colorado (PRWEB) March 14, 2012
Back in February of 2012, Prime Trailer Leasing acquired a group of 40 or more 2007 53x102 Great Dane Super LT refrigerated vans for resale opportunities primarily in Texas and the rest of the Nation. Offering these refrigerated vans for sale has been a well-timed decision for Prime Trailer Leasing as the used trailer market continues to grow in demand and tighten in supply. In fact, with 2013 new trailer sales orders backed up out to February of 2013 already, the year looks strong for the used trailer market and companies like Prime Trailer Leasing who has dry vans, flatbeds and reefer trailers for sale as part of their core business.
Prime Trailer Leasing Rents and Sells Trailers and Flatbeds to the entire nation with rental locations in Denver, Colorado, Salt Lake City, Utah, and Reno, Nevada. With their recent purchase of 2007 reefers for sale, they are a real player in the used trailer sales market and their "relationships matter" mentality and work ethic has proved to be very useful in creating meaningful and strategic relationships with everyone in the industry.
The 2007 53x102 reefers are equipped with air-ride suspension, swing doors, and have a combination of ThermoKing SB 210 and Carrier Ultra XTC units with an average of 8000-9000 hours. These trailer are being offered at full trade terms and are California CARB legal, which is a huge plus for most carriers in the industry.
###