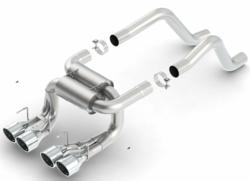 Borla exceeds expectations again with their new ATAK exhaust for the Corvette Z06 and ZR1. We are super excited to be able to offer this new system to our customers
Marietta, GA (PRWEB) March 25, 2012
Borla Performance Industries (Borla) is the de facto industry leader in the development and creation of performance vehicle exhaust systems. Since first entering in to business more than thirty years ago they have carved for themselves an impressive market share based on dedication to premium R&D, and the confidence inspired by a million mile warranty. In that time, Borla's fantastic production methods and incredibly high standards have pushed Borla to the top of the Corvette exhaust pack, and made Borla an automotive household name.
Borla's new Corvette Z06 and ZR1 ATAK exhaust produces the perfect exhaust note for the Corvette. The ATAK, which stands for Acoustically Tuned Applied Kinetic Technology, is a fantastic exhaust that prominently features a powerful and aggressive crescendo of an exhaust tone up through the entire RPM range. The Corvette C6 ATAK system also features a powerful straight through piping design with specially developed mufflers that provide a race-car inspired exhaust tone.
While the Borla ATAK for the Corvette Z06 and ZR1 has been out for a few months in cat-back form (Borla part number 140422)—and during that time has become one of the most respected and well-reviewed systems for those vehicles—the new release of an axle-back version is big news. For many people, they enjoy the deceleration pop accompanied with use of their stock x-pipe, and to attain such when purchasing a cat-back they would be left with an unnecessary mid-pipe piece. For others, the axle-back's primary benefit arises from the ability of coupling it with a header package.
Companies such as American Racing Headers and Kooks Custom Headers have been producing incredible long-tube header packages for the Z06 and ZR1 for as long as those vehicles have existed. A complete long-tube package is one of the most sure-fire ways to increase the HP and Torque output of a Corvette. Many people have reported gains of over 40HP and 40 ft/lbs of torque with just a long-tube header package. The issue arises between a cat-back exhaust and a long tube header package in installation. Most high quality Long Tube packages include a high-flow aftermarket x-pipe from the manufacturer—and often times these x-pipes are where the upgraded high flow catalytic converters are located. By pairing one of these header packages with a cat-back exhaust system the consumer will ultimately find themselves having paid for an unnecessary extra x-pipe.
This axle-back ATAK Borla Covette Z06 and ZR1 exhaust from Borla (Borla part number 11822) provides a perfect solution for those situations . More affordable than the cat-back as result of it not coming with the extra piping, the Corvette axle-back ATAK provides similar performance and sound bonuses and is more suited to specific consumer needs.
The new nature of the system makes it a hot commodity, and wait times may be incurred, and for that reason it's best to go with a well-respected and established Borla dealer. For the Corvette, there's none more established or ideal than SouthernCarParts.com (SCP). SCP has been in business for more than 5 years now and has a catalog with a specialized focus centered on the C5 and C6 Corvette.
###