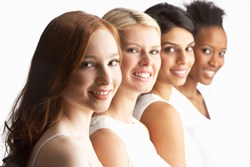 OnlineClinic.co.uk is now offering a range of new treatments for a number of women's health problems.
London, UK (PRWEB UK) 1 March 2012
OnlineClinic.co.uk has ten years' experience dispensing prescription medications for an increasing number of medical and lifestyle conditions such as impotence and male pattern baldness. OnlineClinic has recently put more of a focus on women's health, with the addition of categories such as Contraception. This month they have launched four new women's health categories and will now offer a range of treatments for Cystitis, Thrush, Hair Removal and Period Delay.
Cystitis
Cystitis is not a dangerous infection but it can be uncomfortable and painful. Some women, especially those who experience frequent recurrent infections, may wish to use a prescription medication to alleviate the symptoms and quicken recovery. Such women will now be able to order Trimethoprim, a clinically proven cystitis treatment, online discreetly and securely.
Thrush
Thrush can also be uncomfortable and can occur persistently. For women who wish to treat the symptoms fast and be free of the infection quickly, prescription medications like Diflucan and Gyno-Daktarin are very useful. These two medications can be ordered online at OnlineClinic, where a free and discreet overnight delivery service ensures that treatment can begin as soon as possible.
Hair Removal
Facial hirsutism can be a distressing problem for women, and until fairly recently the only treatment methods available were either only short-term, like shaving or waxing, or potentially hazardous long-term solutions like electrolysis or laser treatment. Vaniqa, on the other hand, is a clinically proven prescription medication which can help treat the problem.
Period Delay
Every woman has experienced the annoyance of an inconvenient period, but until recently there was little that could be done to delay it. It is now possible to delay a period for up to two weeks with the help of Norethisterone, a safe and effective medication, which is now available to order at OnlineClinic.
About OnlineClinic.co.uk
OnlineClinic.co.uk offers prescription treatments for a number of common healthcare problems including men's and women's health problems, sexual health, obesity, smoking, travel treatments and general lifestyle health. Because OnlineClinic.co.uk specialise in treating sensitive conditions, they offer a simple yet discreet online consultation service with a registered doctor. Patients can complete their private consultation and receive their medication the following day via secure courier.
For more details, visit the website or contact OnlineClinic on 020 7084 7593 or via email.
OnlineClinic is a brand name of Hexpress Healthcare Ltd, 138 – 140 Mitcham Road, London SW17 9NH, United Kingdom. Phone: 020 7084 7060.