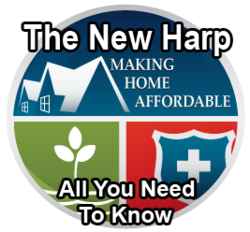 Homeowners who are underwater have options and this program may be a way to assist them in saving their homes and lower their monthly payments.
San Jose, CA (PRWEB) March 15, 2012
The Federal Government sometimes learns from their mistakes and this time California residents whose homes are worth less than what they owe on their mortgages, will benefit. The good news is that a local mortgage lender and author is offering free resources to help California homeowners understand the new program.
The revised Home Affordable Refinance Program (HARP), being launched on March 19th, will help struggling homeowners who are facing short sales and foreclosures with a refinance option that allows them to refinance into a fixed rate, lower rate mortgage without having to get an appraisal. Homeowners whose mortgages are held by Fannie Mae or Freddie Mac qualify for this program.
First established in 2009, HARP was initiated as an option for underwater homeowners wanting to refinance their mortgages at lower interest rates with government expectations that it would assist millions of homeowners who found they were owing more on their mortgages than what their homes were worth.
Up until now, HARP has fallen short of these expectations – prompting the government to relax eligibility requirements in an effort to help more people stave off foreclosure. Billed as HARP 2.0, the government has extended the program until December 31, 2013.
The HARP program is part of a wider scope program known as the Making Home Affordable Program (MHA). Both MHA and HARP are critical elements of the Obama Administration's broad strategy to help homeowners avoid foreclosure, stabilize the country's housing market, and improve the nation's economy.
Locally, mortgage expert, Shashank Shekhar, CEO of Arcus Lending, and author of two books on real estate and homeownership, has created an extensive toolbox for homeowners wishing to understand the HARP program and see if they can qualify.
"My job is helping people with their mortgages. If I can offer resource materials to help homeowners educate themselves so they can keep their homes, I am going to do it," Shekhar stated. "Homeowners who are underwater have options and this program may be a way to assist them in saving their homes and lower their monthly payments. By using the resource material I have created for California homeowners, people can easily assess if they qualify for HARP and our team can take them through the process if they require consulting."
Mr. Shekhar, created an online education toolbox to help California homeowners understand the HARP program details in a variety of easy to understand initiatives including an exclusive HARP website, which offers FAQ's about the program and allows users to see if they hold a Fannie or Freddie loan and if they qualify for a refinance. The can also obtain a free rate quote and a complimentary consultation.
On this site, homeowners can download a free e-book, "17 Things You Need to Know About California's HARP Refinance" at http://www.californiaharprefinance.com/e-book-download/
Mr. Shekhar also created a Facebook business page to share HARP FAQ's, answer questions or let homeowners connect with each other.
As the program launches and more information is released and discussed across the country, Mr. Shekhar will share those insights on his mortgage blog, where he also released the Ultimate Guide to the New HARP Obama Refinance.
Homeowners can contact Shashank directly at (408) 615-0655 or info(at)arcuslending(dot)com.
Shashank Shekhar is widely regarded as "California's #1 Mortgage Expert". He is the author of two widely acclaimed books – "First Time Home Buying 101" and "Real Estate Unleashed". Shashank is also a guest blogger on several of the top mortgage and real estate websites in the country including Homes.com. He has been featured on national news sites and programs. National Mortgage Professional Magazine named him "Top 40 Under 40″ most influential mortgage professionals in the country.