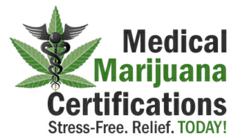 All patients with Arizona medical marijuana cards need renewals each year. The 33% off applies to any renewal, not just those received initially at Arizona MMC.
Phoenix, AZ (PRWEB) March 01, 2012
Arizona MMC, the premier medical marijuana certification practice in the state, is now offering a discount at 33% off regular price for patients in need of Arizona medical marijuana card renewals.
It is almost been a year since the Arizona medical marijuana program started with issuing cards to debilitated patients. Every year, the law states that qualified patients need to renew their card with Arizona medical marijuana doctors. This includes the same qualifications as were obtained initially, including an in person physical examination by a provider, review of the pertinent medical records, and looking at the pharmacy board monitoring site.
Despite the fact that the same amount of work is involved with qualifying a patient for a card renewal, Arizona in the MC has decided to offer a 33% discount off of the regular certification fee ($199, currently on special of $149) to patients obtaining a card renewal. This includes patients who either were initially patients of Arizona MMC or obtained their certification elsewhere and need a renewal.
Over 19,000 individuals have obtained Arizona medical marijuana cards in the 1st full year of the program. There have also been approximately 1000 caregivers licensed in the state so far. Patients who receive a medical marijuana card are able to grow their own marijuana up to a dozen plants, or receive the medical cannabis from another qualified patient or a licensed caregiver.
Indications that qualified for a medical marijuana in Arizona card include glaucoma, chronic pain, severe muscle spasms, severe nausea and vomiting, cancer, ALS, wasting syndrome, and a few others. Arizona MMC will also obtain a patient's medical records for free. All that is necessary is to fill out the medical record release form that is right on the website.
Patients may schedule their certification appointment directly on the website. Also, patients may come in for a walk-in appointment Wednesday through Friday between the hours of 10 AM and 3 PM. Included with the fee, the office will assist with the online application to the state. This can be confusing for patients who are not familiar with the process, and at no extra charge the office will assist. Arizona MMC also acquires patient medical records at no additional charge.
Additionally, appointments may be scheduled by calling 480-252-3799.
###