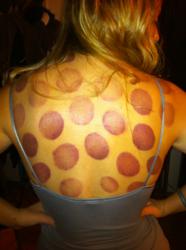 I especially love cupping. It immediately relieves my pain and tension.
-Stacey
Brooklyn, NY (PRWEB) March 21, 2012
Acupuncture needles and Chinese herbal formulas are the most common forms of treatment used by acupuncturists. At Garden Acupuncture they commonly use other adjunct therapies for a more complete system of health care.
Stacey, age 36, came to Garden Acupuncture three weeks ago with severe pain and tightness in her neck and shoulders due to excessive hours working at her computer. After one acupuncture treatment and cupping, her pain was reduced by 50%. After three more treatments Stacey was pain free. "Acupuncture is great. I especially love cupping. It immediately relieves my pain and tension", Stacey says.
Cupping has been around for thousands of years and got big publicity in 2004 when Gwyneth Paltrow appeared at a film premiere with cupping marks on her upper back.
Cupping and Gua Sha are therapies that can be used to treat pain and other health concerns by breaking up blockages. Cupping uses glass, plastic or bamboo cups to create a suction over certain points on the body. The drawing up of the skin helps to stimulate the flow of blood, balances and realigns the flow of qi, breaks up obstructions, and creates an avenue for toxins to be drawn out of the body.
Gua Sha is done using any smooth tool to rub the painful area. Both therapies can create dark, painless bruises. These marks show where the blockages are in the body and will disappear in just a few days.
Check out the video below to find out more about Garden Acupuncture.
Garden Acupuncture is located in Park Slope Brooklyn, next to the Food Co-Op
790A Union St (between 6/7th Ave)
GardenAcu.com
Specializing in fertility medicine and pain resolution using acupuncture, Chinese herbal therapy and nutritional counseling.