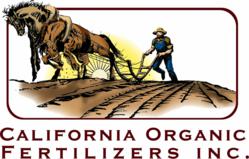 Sacramento, California (PRWEB) March 08, 2012
California Organic Fertilizers, Inc. has received registration by CDFA on all 23 of their organic fertilizer input materials (OIMs). California AB856 requires that all OIMs are registered by CDFA prior to sale.
According to Tim Stemwedel, at the time of this article, less than half of the OIM products submitted to California have received registration. With the integrity of organic agriculture at stake, California Organic Fertilizers has been an advocate for greater vigilence regarding fertilizers used in organic farming.
OIM products manufactured by California Organic Fertilizers include both dry and liquid products. California Organic Fertilizers focuses on organic fertilizers, Nitrogen fertilizers, and Potassium and Phosphate fertilizers.