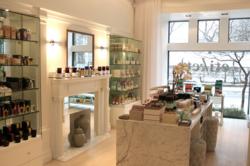 We know that there is an untapped market for luxury beauty and fragrance brands on-line in Canada.
Montreal, Quebec (PRWEB) March 12, 2012
Etiket launched its on-line web store at Etiket.ca today allowing Canadian consumers the opportunity to buy exclusive luxury brands not currently available to the Canadian market from a Canadian resource. Among the brands now available on-line at Etiket.ca are: Atelier Cologne, l'Artisan Parfumeur, Osmotics, MALIN+GOETZ, Margaret Dabbs, Penhaligon's, per'fekt, Sara Happ and Tocca.
"We know that there is an untapped market for luxury beauty and fragrance brands on-line in Canada," said Simon Tooley, president of Etiket. "We are offering brands that up until now were only available by ordering through the US or Europe. Brands like Osmotics, per'fekt, MALIN+GOETZ and Penhaligon's have a strong Canadian customer base and these customers will now be able to order on-line from a Canadian resource. Some of the other lines such as Margaret Dabbs foot care from London or Atelier Cologne from New York may be new to the Canadian consumer but are niche luxury brands that have their place here."
In preparation for the launch of their on-line store, Etiket has been building brand recognition with consumers through the different social media networks as well as an e-mail marketing campaign to their e-list subscribers. Initially the goal was to drive customers to the brick and mortar store in Montreal, and now the emphasis is to build the on-line presence for the e-commerce site. With females making up the majority of visitors to social networks and and e-commerce sites, and the most active social networkers, Etiket is using the social platforms of Facebook, Twitter, Google+, Pinterest, YouTube and Tumblr to attract consumers to build long term relationships.
"We know that more than half of social networkers follow a brand and our goal is to build a brand worth following. In getting ready to launch our on-line store the trust that we have built through all of our platforms will be crucial for our on-line customers," said Natalie Cola, Director of E-Commerce & Social Media at Etiket.
"We know that each of the platforms is appealing to a different customer for us and we promote different brands accordingly," said Miss Cola. "We use Twitter to hit the 35-44 age group and have developed the persona of Miss H.G. Lightly based loosely on the character immortalized by Audrey Hepburn in Breakfast at Tiffany's. We are addressing the need to have a real person behind the brand, even if that person is fictitious and yet still someone many women aspire to or identify with. Miss Lightly also has an account on Pinterest and we are having a lot of fun with it as Pinterest is so hot right now. Although the Tumblr consumer is young, what we like about it is its ability to create buzz, to start conversations, to be real to the people who are on it. We know that this is a great entry level for our customer either for our boutique or our on-line store. We feel this will become more important in establishing an early relationship for long-term customers."
Etiket offers the on-line consumer the possibility to ask for help or advice with any of the products with a toll free number directly to the store. The Etiket team has been extensively trained in skin care and understands the importance of education and addressing each customer's specific needs.
"There are more and more on-line resources in the beauty world and our goal is to ensure that we pass on the same customer service through our e-commerce site as we are able to in our store in Montreal, " Mr. Tooley said. "I live by the following: To succeed online, in business, and in life, remember the golden rule: You will get everything you want if you help enough other people get what they want. Following that credo will be the key to our success."
The skin care lines that will be carried on-line at Etiket.ca include: Alyria, Comfort Zone, , Environ, La Peau, Lumixl, MALIN + GOETZ, Margaret Dabbs, PCA Skin for Men, Osmotics, Proderm, Revaléskin, SwissTEC, and Vivier.
Also available are GlamGlow, Lalicious, per-fékt, Sara Happ, St. Tropez, Beauty Blender and Jane Iredale mineral make-up.
The perfumes offered are Atelier Cologne, L`Artisan Parfumeur, Penhaligon`s, and Tocca.
About Etiket: Etiket is a new luxury retail concept located in Montreal specializing in exclusive Skin Care, Make-up, Bath, Body, Perfumes as well as aesthetic services. An on-line store launched in March 2012 and long-term plans are to open more stores across Canada as well as to develop their own Etiket brand of skin care, soap and candles.