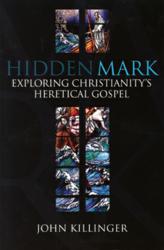 Killinger has presented Mark's Gospel in a fresh way that brings out much of its hidden meaning
Warrenton, Virginia (PRWEB) March 05, 2012
It's the season of Lent, when Christians around the world reread the four gospels that are the basis for their understanding of Jesus' death and resurrection. Most will tend to skip over the small Gospel of Mark, for, of all the gospels, it says the least about resurrection.
Or does it?
Now a widely known preacher and scholar, Dr. John Killinger, has published a book called "Hidden Mark," suggesting that there is a lot more about the resurrection in Mark than readers have ever bothered to notice.
A literary critic as well as a theologian, Killinger analyzes the text of Mark in a way no biblical scholar has ever done. He interprets two vivid stories about Jesus' quelling of violent sea storms as narratives intended to represent the resurrection of Jesus and his subsequent presence with his disciples. Heretofore always treated as mere miracle tales, these stories are in Killinger's opinion powerful allegorical accounts of Jesus' return from death to care for the early church.
In the first story, Jesus is asleep in a boat when a tumult arises. The disciples awaken him and he halts the storm. Several verses later, when Jesus goes to heal a sick girl, mourners outside her home tell him she is already dead. Jesus brushes them aside, saying that she is only sleeping. This is a clue, says Killinger, to the way Mark's Jesus treats death as mere sleep, and suggests that when he awoke in the boat with his disciples he was actually coming back from death.
In the second story, in chapter six, Jesus is on a mountain praying when he realizes the disciples are again in trouble on the sea. He comes down from the mountain and strides across the sea to the boat, causing the disciples to think he is a ghost. In almost all religions, Killinger reminds us, mountains are habitats of the gods. So Jesus was probably in heaven when the disciples became imperiled. Descending from the mountain, he walked through the raging sea to the disciples, who rightly saw him as a ghost because they knew he had already died.
"This is why there are no real resurrection accounts at the end of Mark's gospel," says Killinger, "the way there are in the other three gospels. Mark didn't wait to the end to include them. He inserted them front and center, as the sole basis for there even being a gospel. He was simply less of a literalist than the other gospel writers."
In a second book, "What the Blind Man Saw: Sermons Based on Hidden Mark," Killinger demonstrates how his understanding reinterprets the entire text of the gospel.
Have Christians missed the true meaning of these stories for centuries, or is Killinger only hallucinating?
"I know many traditionalist pastors and scholars will have trouble rethinking the gospel this way," he admits, "especially after treating these passages for years as miracle stories. But once they've seen the stories through this new prism, I think they will realize what a tremendous meaning we were simply missing."
"Before I read this book," says Dr. Charles Gourgey, author of the acclaimed book Judeochristianity, "I saw Mark's Gospel the way many others do: as the poor sibling of Matthew and Luke." "Boy, was I wrong," he continues. "Dr. Killinger has presented Mark's Gospel in a fresh way that brings out much of its hidden meaning and distinguishes it from the other Gospels. The result is a view of Mark that portrays more vividly than any other Gospel what it means for this world to be transformed by the Kingdom of Heaven."
What if Killinger is right and people have been overlooking Mark's real meaning all these centuries?
It means that we can now read the Gospel of Mark for what in Killinger's view it actually is, a Gnostic text from Christianity's early period when Christian gnosticism was enormously popular and had not yet been condemned as heretical. This has huge implications for current ecumenical dialogue, says Killinger, because it removes a major stumbling block to interfaith discussions. In later gospels, especially the Gospel of John, Jesus was presented as a divine being equal with God, which is an obvious problem for non-christians.
Mark doesn't get hung up on Jesus' origin, Killinger says. Instead, he goes directly to the heart of spiritual meaning, and the possibility that even after his death Jesus could continue to bless his followers by appearing to them in moments of extreme threat or anxiety.
Many people in our secularized culture probably regard Bible reading as dull. But there is nothing dull about "Hidden Mark." In fact, it may well become the most talked-about book of this Lenten season.
Some will doubtless call Killinger a heretic, but he isn't worried. "It won't be the first time," he says, "and probably not the last. The important thing is for us to see what Mark was trying to tell us."
JOHN KILLINGER, widely known minister and theologian, is the author of more than 65 books on such diverse subjects as spirituality, preaching and liturgy, and the Christian story behind the Harry Potter literature. He taught at Vanderbilt Divinity School, Princeton Theological Seminary, the University of Chicago, and Claremont School of Theology, and was Distinguished Professor of Religion and Culture at Samford University in Birmingham. In the 1980s he pastored the First Presbyterian Church of Lynchburg, VA, across town from Rev. Jerry Falwell's headquarters of the Moral Majority. He then pastored the First Congregational Church of Los Angeles. His most recent pastorate was at Marble Collegiate Church in New York City, where Norman Vincent Peale was once the minister. He may be emailed at drjohnkillinger(at)gmail(dot)com or reached by phone for interviews at 540-349-1923. His website is http://www.johnkillinger.com.
HIDDEN MARK: EXPLORING CHRISTIANITY'S HERETICAL GOSPEL was published by Mercer University Press in Macon, Georgia, and is available from MUP, Amazon.com, or other booksellers. Examination copies may be requested from Barbara Keene at keene_b(at)mercer(dot)edu. WHAT THE BLIND MAN SAW, its sequel, was published by Parson's Porch Books and is available from PPB or Amazon.com.
# # #