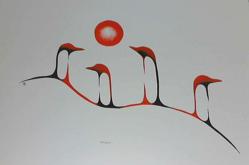 Ongoing Art shows in Kingston
Ontario, as well as other future Canadian locations
Kingston, Ontario, Canada (PRWEB) March 28, 2012
Artist Peter "Hawke" Hill has decided to share his physical art pieces with the world. Mr. Peter "Hawke" Hill is a native Canadian singer, song writer, composer, and artist. The traditional art pieces of Mr. Hill are from the authentic traditional native canadian style while maintaining his own personal hand strokes that provide a unique and authentic piece the can be globally recognized.
Mr. Peter "Hawke" Hill has studied with other Canadian native art masters in http://fineartamerica.com/profiles/peter-hawke-hill.html
After all is said and done Mr. Hill's pieces will allow Hill to share these legends with friends family and colleagues alike and add history and beauty to any place they may be displayed.
As a child Hill always had a fascination with tribal customs and glyphicdrawings and would draw with a stick in the dirt.Growing up on the Tyendanega Reserve near Desseronto, Ontario, Hill spent time learning traditional customs from his Aunt Bill ( Alfreda Sero) through traditional stories she would tell him. When ready for public school, Hill went in Kingston, Ontario where he showed an unsually gifted talent for drawing and painting.All through public school Hill excelled at Art, starting to show more and more interest in his aboriginal roots.
At a point in his early teens, Hill left home at 13 and returned to the reservation to discuss moving to Ottawa to both pursue cultural history of not only his people but all Aboriginal People, and to begin developing his art. After meeting Wolf Morreseau ( Wilfred Morreseau, brother of famous artist Norval Morreseau.) Hill began to learn, at first, the colour codes and cutural values of Ojibway people and other tribes, and then , after years of applying himself to these various art forms, started to develop his own style, only after studying both the private collections and then public paintings of Benjamin Chee Chee. To this day Hill has practiced his art through paintings and the occassional sculpture, and has had many various exhibitions from 1984 at, Ottawa City Hall, Vanier City Hall, Place Bell Canada(all of the Ottawa area). Hill then returned to Kingston in 1989 and did a 2 stage project for the Cataroquai Town Center, first doing a 26 piece art collection, which remained in the town center for over 11 years. His second project at the town center was a 4 piece sculture of a loon family in which Hill personally set up the wildlife exhibit in the fountain area in the food court artea of the town center. Hill took a hiatus before continuing his career in 2011 with the first exhibition at Kingston School Of Art then again, a second exhibition at Kingston School Of Art, won a submission of his work in a Frontenac Community Mental Health calender. He then was accepted as one of only 3 artists in Kingston for the recent Touched By Fire Art exhibition in Toronto, where he met his now promoter, Hugh Sutherland whom, at this point, has future plans for exhibitions in Oakville, near Toronto as well as 2 to 3 exhibitions in Toronto. Hill also is presently launching, of course, Ravens Aboriginal Art Company.
For more information concerning Peter Hawk Hill please go to: http://fineartamerica.com/profiles/peter-hawke-hill.html