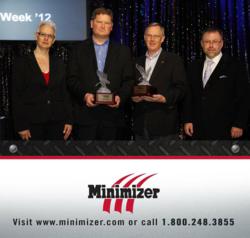 Blooming Prairie, MN (PRWEB) March 01, 2012
Minimizer increased the Company's presence at Heavy Duty Aftermarket Week '12 in Las Vegas, Nevada, which was held January 23 to January 26, 2012.
Steve Hansen, National Accounts Manager for Minimizer explained: "This year we increased our display area to 20' x 30' and proudly sponsored daily events including the Distributor of the Year (DOTY) Awards, the Welcome Reception and the Pinewood Challenge."
"Our presence increased dramatically from prior year shows because we feel the investment is worth it," continued Steve. "The strategic conference elements including distributor education, pre-scheduled supplier/distributor one-on-one meetings, the HDAW product expo and the numerous networking opportunities aligns perfectly with our sales direction. We had a full one-on-one meeting schedule this year. It was invaluable."
The finalists for the coveted DOTY awards included Carolina Rim & Wheel of Charlotte, N.C., Fleet Brake of Calgary, Alberta, Tidewater Fleet Supply of Chesapeake, Va. and Weldon Truck Parts of Oklahoma City. This was the third time in the award's 10-year history that multiple winners were selected: Independent distributors Carolina Rim & Wheel and Fleet Brake were the co-winners.
Tom Stewart, president of Carolina Rim & Wheel, and John Bzeta, president of Fleet Brake, accepted the awards for their companies.
"We're really excited to win this tremendous award," says Stewart. "This goes to my employees. The reason our company is successful is because of our employees."
"I'd like to thank Randall-Reilly, Truck Parts & Service and Minimizer for this award," says Bzeta. "This award is a credit to our employees and the work they do."
The DOTY award was conceived by Randall Reilly's publication, Truck Parts & Service in 2002, to recognize distribution companies that were doing an exceptional job selling truck parts. The award focuses on distributor's strategic business processes, support of the heavy-duty industry, and the distributor's ability to bring success to industry partners.
"The DOTY awards reflect Minimizer's commitment to excellence in the industry," said Craig Kruckeberg, Chief Visionary of Minimizer. "HDAW represents the most valuable annual event for the heavy duty aftermarket industry and supports our commitment to stronger distributor/supplier partnerships. We're really pleased to present this award to these deserving companies at HDAW, a premier annual event for Minimizer."
Jason Rhoads, a National Account Manager for Randall Reilly added, "The award reflects a hallmark moment for a company that promotes them as a vested partner in the industry, a company that can be trusted, and a company that is succeeding in representing multiple supplier lines and doing it well."
Minimizer fenders will enhance the performance of all makes and models of over the road trucks, construction vehicles, or agriculture equipment.
Enhance and protect your vehicle with Minimizer products. The toughness is unmatched as seen on this Minimizer promotional video entitled "Tested & Tortured".
To order Minimizer fenders find a distributor by clicking here. Minimizer fenders and related products are available through exclusive Minimizer distributors.
For more information or to contact a dealer, call us at (800) 248-3855 or visit our website or email us at info(at)minimizer(dot)com.
About Minimizer
Headquartered in Blooming Prairie, Minnesota, USA, Minimizer manufactures poly truck fenders, poly toolboxes, custom mud flaps, and bracket kits. Family owned and operated for nearly three generations, Minimizer parent company Spray Control Systems, Inc., was founded in 1983. Minimizer aims to provide products tough enough to please tough people in a tough industry. For more information call (800) 248-3855 or visit http://www.minimizer.com.
###