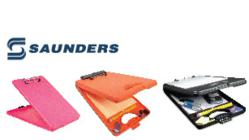 We are committed to produce as many of our products as possible here in the USA.
Readfield, Maine (PRWEB) March 14, 2012
Saunders Mfg. Co., Inc., world-leading manufacturer of aluminum clipboards, forms holders and plastic storage clipboards has relocated additional manufacturing from China back to a plant in Mississippi. As Chinese wages steadily rise and the value of the Yuan increases, the gap between US and Chinese production costs are narrowing rapidly. Reshoring manufacturing jobs in this business environment makes perfect sense. Saunders is very excited to expand their Made in the USA product line and proud to foster economic development in two US regions.
John Rosmarin, president and CEO of Saunders, says, "As a U.S.-based business, we believe it is our responsibility to help grow our own economy first. We are committed to produce as many of our products as possible here in the USA. The value added proposition for our customers is a shorter supply chain that provides a 75% reduction in lead time, stability in pricing and availability, and benchmark quality in products and service. We are proud to take a leading role in both environmental and social stewardship. "
This 65-year-old company has always manufactured its aluminum products in Readfield, Maine. In a time when price is the key deciding factor, Saunders continues to stand their ground and is dedicated to increase their offering of "Made in the USA" value-priced products to its customers. Saunders began this effort in 2008 by moving the plastic clipboard manufacturing to the U.S. and now continues this trend by including plastic storage clipboards.
A new long term strategic alliance has been formed with the largest U.S. employer of people who are blind to manufacture Saunders storage clipboards within their ISO 9001/2008 certified facilities. This initiative will support additional domestic manufacturing jobs. It also compliments Saunders existing alliance with organizations that provide opportunities for Americans who are disabled. Through this initiative over 70 workers manufacture select Saunders products here in the USA.
About Saunders Mfg. Co., Inc.
Saunders (http://www.saunders-usa.com) is a certified Small Business Enterprise committed to environmentally sustainable and socially responsible business practices in its processes, products, and packaging. A privately-held company based in Readfield, Maine, it is the leading manufacturer of aluminum clipboards and specialty forms holders, plastic storage clipboards and distributes the UHU brand of adhesives in the USA. Saunders also manufactures and distributes the RhinoSkin brand of protective cases for smartphones, e-readers and tablet computers.
Contact: Tracy Kastning, Marketing Manager
Email: tkastning(at)saunders-usa(dot)com
Phone: 207-685-3385 x320