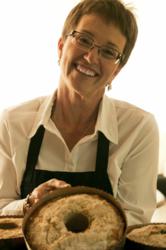 Chicago, IL (PRWEB) March 02, 2012
Owner Christine Welch has been told by friends and family for years, "Your gourmet coffee cakes tastes so great you should start a business", so she launched The Coffeecake Connection to friends and family. With no previous experience, a newly hired marketing and web development team, she sent out 1,300 emails and orders started coming in.
Her new found success has put her on the map by many people prominent in the Chicago food industry.  Chef Chas Boydston, The President of The Chicago Chefs of Cuisine, is putting Christine's cake into his trusted community and serving her cakes as the featured dessert for the 5th Annual Dinner honoring Auguste Escoffier. This event  is serving 90 of Chicago's top chefs.
Cary Miller, The Vice President of Food Industry News as also taken a liking to Christine's cakes by featuring her coffeecakes on his website and opening many doors in the Chicago wholesales markets.
About the Coffeecake Connection.
The Coffeecake Connection currently has 7 flavors in both a large 2.5 lb bundt cakes or their popular mini 9 oz "cake-a-lette" cakes.
The gourmet buttermilk cakes are made-to-order, frozen immediately to ensure high quality and freshness. The cakes are made with seven core, high quality ingredients and has no preservatives to give the cakes a fresh clean taste.
They sell direct to customers via http://www.coffeecakeconnection.com, and offers a cake-of-the-month club. The Coffeecake Connection has programs for Fundraising, Corporate gifts, wholesale, and ready-to-serve for coffee shops, hotels and restaurants.
# # #