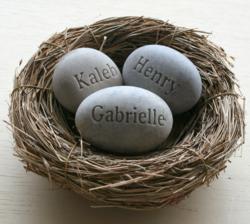 (PRWEB) March 16, 2012
Engraving stones is a time honored tradition across all cultures. Finding that special custom engraved commemoration is now as easy as visiting sjEngraving-Pebbleglyph.com, a new website that redefines upscale gift selection with their neo classic family heirlooms. sjEngraving-Pebbleglyph selects the finest natural pebbles and carves them to perfection to create no ordinary engraved stone, but a monument in miniature size.
"Rodin once said, 'I invent nothing, I rediscover.' Well we didn't invent stone engraving. However, we offer customers the most unique ways to turn this ancient art into unforgettable personal gifts. We hope our originality and craftsmanship bring everyone joy," said Tony and Joanne, founders of sjEngraving-Pebbleglyph.
These personalized stones are the genuine product of high quality material and refined skill no other stone engraver can duplicate. sjEngraving's custom engraved stones look to inspire, celebrate, remember and cherish loved ones and special occasions. Forever memorialize a reunion, graduation, baby shower or birthday, or use as wedding favors, party favors, place settings for events or decoration around a home or an office. Each stone will arrive gift wrapped, ready to awe its recipient.
The authentic originality of sjEngraving's stones is often imitated, but the craftsmanship and talent that they alone can provide will never be duplicated. Starting in 2007 with the Pebbleglyph Collection, the creative ideas that instill life to stone have been growing every year. Other creations include:
-Pebble Nest (aka mom's nest)
-Tiny Pebbleglyph Necklace
-Custom Oathing Stone
-Petite Love Stone
-Message Stones
-Name Stones
-Pet Companion Stone
For more information, check out http://www.sjengraving-pebbleglyph.com/ or visit http://www.etsy.com/shop/sjengraving
About sjEngraving-Pebbleglyph
Located from a home workshop in downtown San Jose, Calif., sjEngraving-Pebbleglyph creates custom engravings on natural stones. Tony and Joanne are a husband and wife team who have been embracing and celebrating the simple beauty of stone engraving for many years. All the engraving is done in-house, and each piece receives careful, individual attention. This old fashion approach ensures a level of refinement that hasn't been seen before. As pioneers of stone engraving, sjEngraving-Pebbleglyph always explores ideas to imbue new life to stone to bring customers the highest quality works with authentic originality creating neo classic family heirlooms customers will be proud to have or give.
Contact
Tony Cheng
service(at)sjengraving-pebbleglyph(dot)com
408-287-0985
###