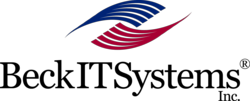 BeckITSystems, Inc. affordably provides high levels of technology expertise to non-profits and businesses by leveraging economies of scale for small and mid-sized organizations.
Dulles, VA (PRWEB) March 01, 2012
BeckITSystems, Inc, a Northern Virginia premier technology consulting and services company serving non-profits and businesses with 20-200 employees today announced the publication of the March Executive Briefing titled "Data Protection Essentials For Non-profit and Business Executives." BeckITSystems provides Disaster Recovery and Data Backup, Cloud Computing, Technology Management, and Strategic Technology Planning for non-profits and businesses in the mid-Atlantic region.
Copies of the publication are available for delivery by calling BeckITSystems, or download from the website.
The monthly publication provides an executive briefing on a variety of complex technology issues that enable executives of non-profits and businesses to use technology as a strategic advantage. Strategic technology is managed in larger firms by a Chief Information Officer or CIO. "Organizations with 20 to 200 employees usually cannot afford to hire a dedicated CIO and BeckITSystems provides this high level of expertise through economies of scale by serving that expertise by the drink without the expense of buying the entire bottle," said Ed Becker, President.
The March Executive Briefing provides management principles for decision makers on how to know that their organization's data is reliably backed up and can be restored quickly to maintain business continuity if an emergency arises. In light of the continuing difficult economy, BeckITSystems will provide a free technology security analysis to qualified organizations. The analysis includes a full written report that graphically depicts the security and data protection status of the organization including how much personal music and video data is stored on the computers.
During the month of March, executives or their representatives may request a free security analysis by calling BeckITSystems, Inc. at 703.433.0730 or toll-free at 877.649.9829, or requesting it online.
# # #