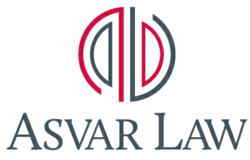 Our legal community reinforces a lower standard of care for clients who are not educated about selecting a good firm to represent them beyond workplace and personal injury ads on TV. It's a tragic disadvantage for traumatic brain injury sufferers.
Los Angeles, California (PRWEB) March 01, 2012
Los Angeles-based attorney Christopher Asvar (http://www.asvarlaw.com) has just secured the highest known workers' compensation insurance settlement in California history, totaling $8.9 million on behalf of his young client who suffered a workplace traumatic brain injury.
According to Steve Chapman, a well-known structured settlement specialist, "When you ask around the state of California, attorney Asvar's settlement is the highest anyone is aware of." Nearly three years ago, Mr. Asvar who specializes in workplace and brain injury litigation, substituted into a long-neglected claim of his client, who five years before had sustained a twenty-foot fall from a scaffold while employed as a painter.
At the time Mr. Asvar commenced his representation, his client was suffering from severe depression, cognitive deficits, anxiety, psychosis, self-mutilation and perhaps most interestingly, a psychiatric diagnosis of multiple personality disorder. Despite the fact that there was no objective evidence of a traumatic brain injury (Asvar's client had negative MRI and CT scans), Mr. Asvar prevailed in his contention that his client's symptoms related to what the medical experts in the case ultimately came to regard as a "mild" traumatic brain injury.
"In describing this class of traumatic brain injury," says Asvar, "the term 'mild' is an absolute misnomer given the severity of possible complications and repercussions. We have a duty to educate the general public and even many members of the medical and legal community about the profound impact these injuries have in the individual lives of those affected and their families, whether they are employed as a construction worker or an NFL player. Dismissing someone's brain injury as 'mild' is akin to saying someone is 'mildly' paraplegic."
Asvar's approach to the representation of his small number of clients is a sharp rebuke to the volume business model so often seen in the "applicant mills" of workers' compensation.
According to various sources familiar with the industry, it is not uncommon for an attorney to carry a roster of 300 to 500 cases at any one time. Asvar recalls his days as a defense attorney with some remorse: "I took too many depositions of seriously injured people whose attorneys had never met them or even read their file."
When he accepted his first workers' compensation brain injury claim, Mr. Asvar instituted the same standards for his work comp client as he held for his civil litigation clients. "It's about conflict of opportunity – how can you properly litigate and manage a traumatic brain injury case with 400 other cases on your desk? I don't find it humanly possible." Asvar laments how the high-volume business model demands fast dispensation of claims often leading to inadequate settlements: "Unfortunately, we are observing the industrialization of the industrial injury."
As attorney Asvar explains, "The lowered benefits to injured workers adopted by our legislature years back in the name of 'reform' combined with standard practice of hasty settlements by some members of our legal community reinforce a lower standard of care for clients who are not educated or informed about qualifying the firm they choose after seeing an ad on late-night TV. If you have a sprained ankle, you are probably going to be fine in the end. But with serious injuries, especially those 'hidden' cognitive deficits related to brain injuries, you can be set adrift for a lifetime by this system."
Asvar recalls being warned several times by more seasoned attorneys that his approach would ultimately fail. "When I initially started on this road it was an open question whether this approach of small case numbers and full attention to every detail and every aspect of your client's cases could ultimately work in the work comp ecosystem. You know, there can be 2-3 years between each settlement. They say this is a record settlement, but the real gratification here is knowing that you have done the best you could for your client …and that the approach works."
Case Number: 2137779
Court: Los Angeles Workers' Compensation Appeals Board
About Christopher A. Asvar, Esq. and Asvar Law, APC
Attorney Christopher A. Asvar is founder of Asvar Law, APC, a boutique law firm specializing in civil and workers' compensation plaintiff litigation. He received his Juris Doctor degree from Loyola Law School, Los Angeles. Mr. Asvar's areas of practice have included insurance defense, employment and business litigation, workplace injury and later brain injury litigation.
Mr. Asvar is a certified course instructor licensed by the California Department of Insurance as well as the California State Bar for provision of accreditation and MCLE courses to attorneys, adjusters and insurance specialists in the fields of insurance defense and worker's compensation law. Mr. Asvar is a member of the American Bar Association, the Los Angeles County Bar Association, and the San Fernando Valley Bar Association. He is also a member of the Pacific Council on International Policy. Mr. Asvar was named in the Los Angeles magazine's list of Super Lawyers for the consecutive years of 2009, 2010, and 2011 featuring "Outstanding Young Lawyers in Southern California."
Asvar Law, APC has just opened its new Los Angeles office, located at 11900 Olympic Blvd., Suite 470, Los Angeles, CA 90064. See more at: http://www.asvarlaw.com
# # #