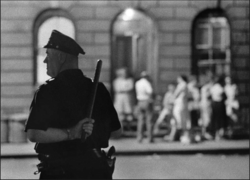 Tumblr is now primed to become more and more crowded with news publications and photo journalists
Los Angeles, CA (PRWEB) March 21, 2012
The New York Times recently launched The Living Morgue, a photo archive of historical photographs from the publication's past onto the very popular micro-blogging service Tumblr. Selected from the newspapers physical "photo morgue," The Living Morgue collects black and white shots from different times in history presented through Tumblr's feed. Other publications can achieve the same by using elegant and minimalist themes for Tumblr, like those found on The Layout Shop.
In a move that would have been more predictably done through publishing a coffee table book, The New York Times chose to take the digital route. The Tumblog is presented in a basic blog format yet manages to remain reverent in its design sensibilities through an elegant theme design.
This is an innovative way to make use of publication's vast archive of news images; to both educate, inform, and even enlighten a new generation of Internet users.
This step is especially interesting seeing as the decline of newspapers and print media has been brought about by the rise of the internet and social media. Bringing The New York Times' history into a Tumblog through its collection of iconic and legendary images is an unprecedented move among the big-time publishers.
The New York Times photo archives contains literally millions of photographs from throughout its over-150-year history. Almost all of these photos can not be found anywhere in the Internet which is a rarity.
All this may just succeed in adding considerable legitimacy to the popular micro-blogging service. The launch of The Living Morgue opens the way for other publications around the world to follow in the Times' footsteps, particularly newspapers and magazines with long and rich histories.
With The New York Times on its corner, Tumblr is now primed to become more and more crowded with news publications and photo journalists in the coming months. The service can now only keep growing in popularity as more and more people and companies get on board the micro-blogging bandwagon.
About The Layout Shop
The Layout Shop is an online theme store specializing in professionally-made and customizable premier and free themes for Tumblr