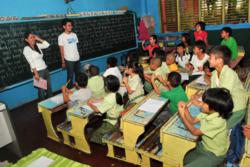 "There should be emphasis and focus on providing a well-rounded, engaging literacy experience for the students. "
Cebu City, Philippines –
(PRWEB) March 23, 2012 -- NorthernWorx KPO, a prime outsourcing establishment has partnered with Zapatera Elementary School for its "NorthernShelf – Book Reading" campaign, an initiative focused on building awareness in the community about the importance of reading to young children. Current employees from its call center, general transcriptions participated in the campaign by reading a book to the public elementary students.
The campaign which kicked off last December as Northern employees raised to almost 500 books from its book donation drive.
Recognizing the importance of early childhood development, Mawit Go, CMO cited that, "There should be emphasis and focus on providing a well-rounded, engaging literacy experience for the students. "
Go also said that the company is committed to raising awareness amongst parents and the community about the influence and impact a quality early childhood education has on children's language and literacy skills.
"At NorthernWorx, we believe that when young children have a significant adult reading and discussing a story with them, their engagement with the story is greatly increased. This helps the children to acquire a much-needed foundation for building strong literacy skills, as well as the motivation to be lifelong readers and learners."
Zapatera Elementary School is the first beneficiary of the aforementioned programme.
Since the campaign was officially launched last December, the NorthernWorx office in Mango Avenue has been packed with books donated by its employees. The establishment believed that the campaign calling for book donation was the fastest and most effective way to enhance its collection.
The book-reading campaign took place last March 19, 2012.