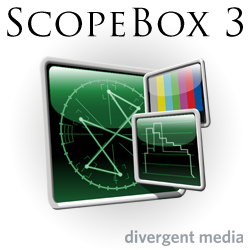 At $99, ScopeBox 3 is the most powerful and affordable quality-assurance tool on the market.
San Francisco, CA (PRWEB) March 06, 2012
Divergent Media's ScopeBox 3 is now available for purchase at $99, and as a free update for existing customers.
ScopeBox 3 is the latest version of the Mac application that transforms users' everyday computers into complete video-analysis suites. It features a new and improved engine for better performance, new fail-safe video capturing with live-editing capabilities and on-the-fly transcoding to many popular production formats, and new envelopes and alerts systems that make monitoring many video sources and logging issues easier.
Divergent Media has been working for more than two years on the anticipated ScopeBox upgrade. At $99, ScopeBox 3 is the most powerful and affordable quality-assurance tool on the market.
"We've worked hard since the last Scopebox release to expand the possibilities of a software-based quality assurance, monitoring and capture tool," said Divergent Media CEO Mike Woodworth. "With a new engine, and new capture and alert capabilities, we've pushed the limits of real-time video quality assurance and laid a foundation that will allow us to continue to delight our users and innovate further. We've even dropped the price enough that everyone will be able to experience all the great things ScopeBox 3 offers."
Adaptive Kernel Engine
ScopeBox 3 introduces a video processing pipeline called the Adaptive Kernel Engine (AKE). AKE allows ScopeBox to optimize the processing load for the computer, video source, bit depth, and palettes in use. AKE is optimized for both Intel and PowerPC, and allows ScopeBox to extract even more performance from users' systems.
Fail-Safe Capture
ScopeBox 3 constantly writes coherent QuickTime data to disk so that, no matter when or how the record is stopped, the user will end up with a valid, playable file. In addition, Live Edit can be enabled on most Fail-Safe Captures, allowing the Quicktime movie to be reviewed, logged or cut while still being recorded.
ScopeBox 3 also transcodes video sources in real time, so users can capture uncompressed signal in ProRes, AIC, DNxHD and other formats.
Envelopes and Alerts
Envelopes and Alerts combine to allow the user to better keep an eye on their signal while juggling multiple sources and tests. With Envelopes, each palette maintains a visual record of peak values, allowing the user to check the status of a palette at a glance. Alerts generate annotated notes when threshold values are detected in the user's video, audio or timecode signal. These alerts can be exported as lists or edit-ready markers for later review.
ScopeBox 3 is available for purchase and, for existing users, as an upgrade from Divergent Media's online store at divergentmedia.com/store.
More information about the application is available online at divergentmedia.com/scopebox.
About Divergent Media
Divergent Media is based in San Francisco, CA, and provides flexible tools for video monitoring, acquisition and quality assurance. Its ScopeBox application is used in every stage of the video-production process, from acquisition and ingest to editing and master control, and represents a shift from hardware to software in video analysis. Divergent Media's ClipWrap software is a fast and easy way to prepare Mac HDV and AVCHD files for viewing or editing in many popular formats.
ScopeBox, Adaptive Kernel Engine, Fail-Safe Capture and Live Edit are trademarks of Divergent Media. All other trademarks are property of their respective owners.
###