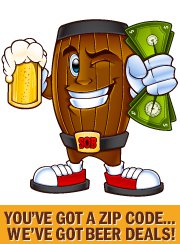 I think there's definitely the biggest sticker shock when Knicks fans show up to Madison Square Gardens to buy a beer for $9.50
Houston, TX (PRWEB) March 19, 2012
This season, NBA fans will consume more than 5 million servings of beer during the games according to this infographic at SaveOnBrew.Com. However, the price experts have found that some fans are luckier than others when it comes to the prices of beer.
According to SaveOnBrew founder Mark Davidson, the cheapest beer has been spotted at The Palace of Auburn Hills, home to the Detroit Pistons. At first glance, $7 a beer may seem like a crime, but upon closer inspection, fans are actually getting 24 ounces of beer (rather than the standard 16) so this NBA beer is just 29 cents per ounce. Other lucky beer drinkers include fans of the Colorado Nuggets ($4.45) and the Oklahoma City Thunder ($5) that get their 16 ounce beers for less.
On the opposite end of the spectrum are stadiums for the New Jersey Nets (48 cents/ounce), Chicago Bulls (48 cents/ounce) and Boston Celtics (45 cents/ounce). "I think there's definitely the biggest sticker shock when Knicks fans show up to Madison Square Gardens to buy a beer for $9.50," Davidson explains. "Sure, you're getting 22 ounces… but it's hard not to think that we could be having 72 ounces of beer in a six-pack for less than that price."
To save money on NBA beer, there are several things you can do.
1. Travel. "Let's face it. No one wants to spend $100 on beer in their home city. Instead of buying 10 drinks at the Knick's game, why not just plan your annual vacation with an NBA game in mind? You can make twice as many stops at the beer vendor in Colorado and see a cool state on top of it."
2. Find a neighboring bar. "Large beer gardens are becoming a big trend in many cosmopolitan cities now – especially near sports stadiums," Davidson says. "For instance, instead of paying an arm and a leg for Madison Square Garden beer, you might want to try the Bohemian Hall & Beer Garden, where you can get a pitcher – the equivalent of four pints – for $16. Tempest Bar has $4 beers right around the corner and, if you're not looking for anything fancy, you can get $3 pints of PBR and Amstel Light for $3 at The Blarney Stone."
3. Visit http://www.SaveOnBrew.com and get the party started at home. "At SaveOnBrew, we have a neat infographic showing NBA beer prices and we also list more than 350,000 beer prices nationwide. If you have a zip code, we'll show you the way to the cheapest beer."
There is no excuse to pay full price for beer when the SaveOnBrew.com website and mobile app can point thirsty beer drinkers in the right direction. The website also features a humorous (and highly contentious) beer blog, beer drinker's resources (like how to get rid of a hangover or the rules for beer drinking games) and a small online store selling mugs, pitchers, beer pong tables and other accessories.
About SaveOnBrew.Com: Founded in 2010 to help thirsty beer drinkers across the United States find the lowest advertised prices for one of the world's most popular beverages.