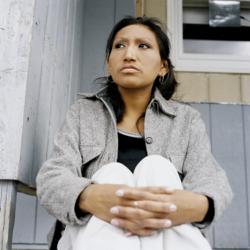 I'm 24 years old and I can't remember a time that DSS wasn't in my life. I grew up in their custody—in state institutions and their residential treatment centers. Then, as soon as I had my own kids, there DSS was again. They had never really left.
Santa Cruz, CA (PRWEB) March 01, 2012
Janice Howe was featured in NPR's October 25th investigative report "Native Foster Care: Lost Children, Shattered Lives." Ms. Howe, who lost and later reclaimed her granddaughters after a two year battle with the South Dakota Department of Social Services (DSS), has been working to educate and help other Lakota/Dakota/Nakota who have lost their children and grandchildren to the foster care system. Ms. Howe, responding to many requests, has called a meeting for Saturday, March 3 in Ft. Thompson, South Dakota, on the Crow Creek Indian reservation. Family members will have the opportunity to share their stories and learn about their rights under the Indian Child Welfare Act. This community education meeting will feature a presentation by Chief Counsel of the Lakota People's Law Project (LPLP), Daniel Sheehan, who is working on a campaign to enforce ICWA in the state. Dana Hannah, Special Counsel for the ACLU, will also be in attendance.
This important Dakota self-empowerment initiative is being sponsored, in part, by the Lakota People's Law Project and by the Swift Foundation of Santa Barbara, CA. LPLP Executive Director Sara Nelson said, "We were enthusiastic about helping with expenses for the meeting. Ms. Howe and other Lakota are heroically volunteering their time and money to take positive measures to rescue their children. We reached out to the Swift Foundation, whose Board decided that they too wanted to help with this landmark meeting."
According to NPR, Native American children in South Dakota comprise only 15% of all children in the state, but they constitute over 50% of the kids in state foster care. According to public defender files, once Native children have been taken by the South Dakota Department of Social Services, parents and family members often have to drive more than a hundred miles to attend a hearing to find out why their children were taken. Moreover, parents and family members complain that they are not told where the children are ultimately placed and are not allowed to communicate with them. Without money for private attorneys, family members have no real legal recourse. Public defenders are overworked with case loads of 100s of clients.
According to their own monthly reports to the ICWA offices, the South Dakota Department of Social Services has seized and removed over 5,500 Indian children from their parents, grandparents and tribe over the past decade. State documents ("The Demographics of Children in Alternative Care") show that over 68% of these children were placed in Caucasian-owned and operated foster care facilities or with Caucasian foster parents. This is a direct violation of the federal Indian Child Welfare Act of 1978 which mandates that Indian children be placed with relatives, members of their tribe, or members of another tribe before being placed with white families and institutions.
Statistics provided by Judge William Thorne, Jr. of the Utah Court of Appeals show that 63% of Indian children who "age out" of the current foster care system and reach 20 years of age are homeless, in prison, or dead.
According to NPR reporters Laura Sullivan and Amy Walters, money may be a factor in the foster care process. "Every time a state puts a child in foster care, the federal government sends money. Because South Dakota is poor, it receives even more money than other states - almost a hundred million dollars a year." - "Native Foster Care: Lost Children, Shattered Families," October 25, 2011
The Swift Foundation supports local stewards and their allies who are dedicated to protecting biological and cultural diversity, building resilience amidst climate change and restoring the health and dignity of communities globally.
The Lakota People's Law Project is sponsored by the Romero Institute, a 501(C) 3 not-for-profit corporation based in Santa Cruz, California. The Lakota People's Law Project has been researching and investigating Lakota foster care issues since 2006. The project was begun at the request of Lakota grandmothers who were actively seeking the return of thousands of missing Lakota children, whom they call "The Lost Birds." LPLP tribal liaison, Madonna Thunder Hawk, is working now with grandmothers though out the state.
Romero's Lakota People's Law Project has funded Lakota investigators, interviewers and professional consultants to provide technical assistance to the tribes. The goal has been to plan Lakota/Dakota/Nakota-value-driven Family Service Agencies. The project has written and distributed "Indian Child Welfare Act – A Guide to Rights, Recommendations and Court Processes for Parents in Abuse and Neglect Cases." The booklet is a step by step guide for parents who have had their children taken by the DSS, and may be the only such guide in the country. It is available for download at no cost at http://lakotapeopleslawproject.org/resources/.
The Romero Institute honors the spirit of Archbishop Oscar Romero of El Salvador by working on cases where injustice is severe and systemic, and where people lack the resources to get help elsewhere.
# # #