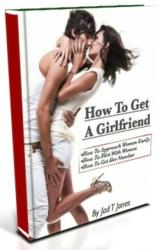 The secret to game is that there is no game!
Vancouver, BC (PRWEB) March 27, 2012
There is a young man by the name of Jad T Jones who is quietly emerging as one of the most beloved and trusted dating advice authors on the net. In just a few short months, his kindle book How To Get A Girlfriend has shot up to number one in the search results on Amazon.
With over 60,000 views of his videos on YouTube and his book being downloaded over 1500 times, Jones is quickly becoming the online authority for dating advice.
According to Jones, he receives testimonials and thank you emails daily from his readers.
One reader writes, "Hi Jad! I really, really, really thank you for your book and your emails; you changed my life ground to sky! I was a boy like you were, with my father away and raised by my mother. A really shy person and submissive with women. But now (after reading your book) I can connect and attract women. I'm still training myself, but I changed a lot and learned a lot from your book. I can't thank you enough!"
Jones tells us that he gets emails like this almost every day with people telling him how they have been able to get a girlfriend or even a fiancé.
Jones says, "Nothing makes me feel happier and more fulfilled to know that today I made a difference in someone's life. There are so many men out there who feel unworthy and lack confidence; being able to teach men how to feel confident, worthy and attractive is extremely rewarding for me."
Jones advocates honesty, transparency and love when interacting with the opposite sex. According to Jones, people connect a lot faster when they are being honest and loving towards one another and this is what he teaches all his students.
It will be very exciting to follow the evolution and growth of Jad T Jones.
To learn more go to Jad T Jones' website: "How To Get A Girlfriend"