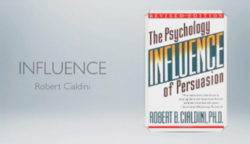 Melbourne, Australia (PRWEB) March 08, 2012
Entrepreneurs and even salespersons seeking a better way to market their products and services or effectively target clients will get a lot from the latest edition of PreneurCast. In the latest episode of the marketing podcast, creators Pete Williams and Dom Goucher talk about Cialdini's six weapons of influence and how business owners can use them in their marketing.
Given the advancement of technology and the internet, it shouldn't be a surprise that the first weapon is social proof. Social proof basically means if someone has bought the product, it must be good; therefore, it is good enough for you to purchase.
Second weapon Cialdini says is liking. People are more likely to buy from a person or business that they actually like. Pete's advice: creatively figure out a way to show your personality.
Authority is revealed as the third weapon. People are more influenced by authoritative figures. It doesn't matter what type of business it is, the fact remains authority is key.
The first three weapons are just a tip of the iceberg. Be sure to tune in and listen to the entire episode where Pete and Dom reveal all six weapons of influence. Later in the show, Pete gives an example of how to use The Marketer's Filter using Twitter as an example. They also discuss The Marketing Symphony – what it is and how entrepreneurs can utilize this strategy.
To listen to this episode, be sure to tune in - http://www.preneurmedia.tv/PreneurCast/PreneurCast041-the-marketers-filter/.
Listeners can subscribe to the podcast in iTunes or PreneurMedia.tv. PreneurCast airs every week.
About PreneurCast Hosts
Pete Williams
Pete is an entrepreneur, internet marketer, speaker and author. At 21, he sold Australia's version of the Yankee Stadium, the Melbourne Cricket Ground, for under $500. He went on to write a number of books ("How to Turn Your Million-Dollar Idea Into a Reality," "Media Strategies for Internet Marketers," "The Ultimate Press Release Swipe File" and "It's Not About the Product") and create a bunch of companies (Infiniti Telecommunications, On Hold Advertising, Simply Headsets and Preneur Group to name a few). He's also an avid outdoor adventurer. He completed this year's Ironman Western Australia in under 12 hours.
Dom Goucher
Dom currently lives in a small holiday town on the east coast of Spain with his partner, Keavy, and their three kittens: Meg, Mog and Blue. He's self-employed and has been a Technical Solutions Consultant for Xerox. He has a background in print production and online media production, and has been a photographer and technical trainer for creative software such as Photoshop, Illustrator, InDesign, Dreamweaver, Flash and FinalCut. Somewhere in a box, he has a degree in Computer Science too. He specializes in ScreenFlow and screencasting, and also does transcription, ebook creation, training course design and implementation.