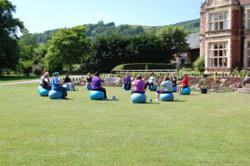 No.1 Weight Loss Boot Camp
(PRWEB UK) 9 March 2012
FitFarms is the first holistic boot camp style company to bring out a clothing range especially designed for guest and the high street.
The weight loss retreat have two ranges which has been designed with exercise in mind. The first clothing line is the FitFarms women sports wear which has a unique pink logo with a female in a fitness pose. Under the logo it has two letters FF standing for the companies name. The second clothing line is the male sports wear which has a male runner striding away with a blue background and the FF writing below.
The Fitness clothing line will start of small with four items for females and four for the men. They will include a royal blue sweater for the girls which can be used casually all for warming up before exercise. The men have a more traditional sweater made from 100 percent cotton which match a heather grey jogging trouser. The men also have polo and T shirts that are all matching. The company are predicting the number one weight loss retreat clothing item will be the girls black and pink stretch like fitness top. It has an extreme feminine feel but also hard wearing and will stand up to the most vigorous boot camp exercise.
The clothing is minimally more than the high street brands but there are some major advantages. Due to double stitching and the the mixing of fabrics the fitness retreat clothing will last a lot longer than the typical high street brands. The fitness boot camp designs even have thought of extra padding in the typical landing areas. The main advantage though of the FitFarms clothing line is not the how it's made but where the clothes are made. It is refreshing to hear that all the clothes from the fitness trousers to the weight loss retreat female top have all been ethically sourced.
FitFarms have even had guest who are going to the more traditional boot camps ask if they could purchase parts of the range to help them through the vigorous weight loss boot camp training programme.
The fitness retreat give all guest that are attending the weight loss programme a 10% reduction as a perk for joining the weight loss week.