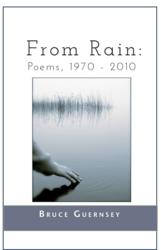 This truly is an amazing collection.


Claudia Emerson
Pulitzer Prize Winner, Poetry (2006)
Boston, Massachusetts (PRWEB) March 15, 2012
Poet, Bruce Guernsey's title From Rain, Poems, 1970 - 2010 will be available in May. Guernsey is Distinguished Professor Emeritus at Eastern Illinois University where he taught for twenty-five years. He has also taught at William and Mary, Johns Hopkins, and Virginia Wesleyan where he was Poet in Residence for four years.
His poems have appeared in Poetry, The Atlantic, The American Scholar, and many of the quarterlies. His four collections and seven chapbooks include January Thaw from the University of Pittsburgh Press and, most recently, New England Primer from Cherry Grove/WordTech. He is a former editor of The Spoon River Poetry Review.
The recipient of fellowships from the NEA, the MacDowell Colony, and the Illinois Arts Council, Guernsey has been a Fulbright Senior Lecturer in American Poetry in Portugal and Greece. He has also twice sailed around the world as a faculty member with Semester at Sea.
To request a review copy or set up an interview with the author please contact Naomi Peirce at naomi.peirce (at) eccoquapress (dot) com
Ecco Qua Press is an independent publisher of fiction, literary nonfiction and poetry. The name is Italian, translating to "Here it is," defining its mission to get good work out and into the hands of interested readers.