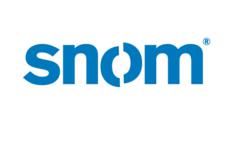 Woburn, Mass. (PRWEB) March 01, 2012
snom technology AG, a leading developer of IP desktop phones and IP communications solutions, today announced the expansion of its strategic relationship with Alloy Computer Products, the company's Platinum-level Partner in Australia and New Zealand. AlloyCP, the company's U.S. subsidiary, is now an official snom North American distributor.
AlloyCP will distribute snom's full portfolio of business VoIP phones, IP PBX solutions and UC- enabled endpoints to its North American network of value-added resellers (VARs), network service providers and system integrators from it sales office and warehouse facility in Sunnyvale, CA. To accelerate its U.S. channel sales, AlloyCP is introducing an array of new reseller recruitment initiatives for snom VARs across the Pacific Northwest and West Coast.
Alloy earned snom's Platinum Partner status by continually increasing year-over-year sales of snom's IP communications portfolio and meeting snom's high standards for customer satisfaction in 2011. "Alloy has played a pivotal role helping establish snom in the Australian and New Zealand markets," said Mike Storella, Chief Operating Officer for snom technology Inc. "They are an ideal fit to support our continued growth and expansion in the western parts of the U.S. and Canada."
"We're proud of our relentless commitment to customer service and high quality products over the last 27 years," said Karl Baker, Marketing Director at Alloy Computer Products. "Alloy is excited to deepen our relationship with snom and be able to now offer our U.S. channel partners the full breadth of snom's innovative SIP-based solutions."
snom has three levels of distributors – platinum, gold and official – as part of its Partner Program, a comprehensive indirect channel sales program designed to broaden snom's global sales coverage and drive sales for the company's portfolio of advanced IP business phones. The program is anchored by snom's distributor partners such as Alloy who provide the mission critical, on the ground sales support and distribution for snom's products to snom Certified VAR partners, its growing network of highly trained telecom resellers, interconnect, IT services and managed IT service providers worldwide.
Launched in 2007, snom's Partner Program is a comprehensive global channel sales and marketing program to provide snom's network of distributors and registered and certified value-added reseller partners with the tools to support and expand snom's worldwide customer base, delivering the optimal level of customer service and direct access to the latest snom technology.
snom is seeking new VARs to join its partner program. To become a registered snom VAR sign up at http://www.snomchannel.com.
For more information about snom, please visit http://www.snomchannel.com; follow us on Twitter at http://www.twitter.com/snom; like us on Facebook at http://www.facebook.com/snom.VoIP.phones; or join our LinkedIn group at http://www.linkedin.com/groups?gid=1773766.
About snom
snom technology AG develops and manufactures VoIP telephones and related equipment based on the IETF open standard, SIP (Session Initiation Protocol). Recognized for its high-quality, customizable and cost-effective business solutions, snom is also differentiated by the company's history in the VoIP industry and its dedication to high security standards. All of snom's products, from desktop phones to IP PBXs, are designed to be fully interoperable with leading communications equipment vendors. snom customers benefit from the interoperability and flexibility that the snom telephones offer, including plug-and-play integration and universal compatibility with any SIP-based telephony platform. In September 2011, the snom 300 and the snom 821 were the first SIP phones officially tested and qualified as interoperable with Microsoft Lync™ by Microsoft.
Founded in 1996 and headquartered in Berlin, Germany, snom technology AG also has offices in Italy, France, the United Kingdom and the US. For more information on snom, please visit http://www.snom.com.
About Alloy
Alloy Computer Products (Australia) Pty Ltd is a wholly owned Australian manufacturer and Distributor of enterprise networking, industrial networking and IP communications products. The company is headquartered in Melbourne, with offices in Sydney and Sunnyvale, California. Established in 1985, Alloy is known for commitment to customer service, product quality and for bringing the latest technological advances to the market. Alloy is an ISO 9001 Quality Endorsed company. Visit Alloy at http://www.alloy.com.au
About AlloyCP
Alloy Computer Products LLC - trading as AlloyCP - is the wholly owned American subsidiary company of Alloy Computer Products Pty Ltd. Commencing operations in 2009 from it's Sunnyvale, CA headquarters, AlloyCP Distributes Enterprise Networking and IP Communications products to a North American Reseller channel. AlloyCP has forged a reputation for supplying technically innovative and highly reliable products and offering excellent value for money. Visit AlloyCP at http://www.alloycp.com
Media Contacts
snom - North America
John Gates
Elevate Communications
+1 (617) 861–3651
john (at) elevatecom (dot) com
Mike Storella
snom technology, Inc.
18 Commerce Way, Suite 6000
Woburn, MA 01801
+1 (781) 569-2044
mike.storella (at) snom (dot) com
snom - Global
Heike Cantzler
Christian Baier
snom technology AG
D-10117 Berlin
Germany
+49-30-39833-103/106
heike.cantzler (at) snom (dot) com
christian.baier (at) snom (dot) com
Alloy Computer Products (Australia) Pty Ltd and
Alloy Computer Products LLC (DBA AlloyCP)
Karl Baker
Marketing Director
+61 3 8562 9000
karl.baker (at) alloycp (dot) com
###