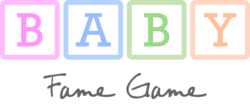 Are you looking for a unique and fun gift for a child under the age of five? Do you think they have star potential? If you see that twinkle in their eye, enter them into the Baby Fame Game for a chance to win the Baby Fame Game Jackpot!
Brighton (PRWEB UK) 2 March 2012
UK based company Baby Fame Game recently launched its website to find the next baby superstar. The website allows parents and friends to enter their baby into a race for stardom and win the Baby Fame Game Jackpot. To win, the baby must be the first out of all babies entered to complete any one of the 10 Baby Fame Game 'Ambitions' in their lifetime. The 10 Baby Fame Game 'Ambitions' are;

Become King or Queen
Become a World Leader
Walk on Another Planet or Moon
Win a Gold Medal at the Olympics
Win an Oscar
Have a Number One Solo Album
Become a Sports Hero
Win a Grammy
Win a Nobel Prize
Reach the Age of 100
If the baby is the first to complete any one of these achievements in their lifetime they will collect the Baby Fame Game Jackpot. The Jackpot grows with each new baby entered into the game so there is no limit to what they could win. The growing Jackpot Prize can be found on the homepage of the website here http://www.babyfamegame.com.
Entry into the game costs only £5 per baby, for which the baby will receive a personalised commemorative certificate featuring their name which they can keep forever as their proof of entry.
David Welsh, Founder, Baby Fame Game commented: "During my student years I paid for beans and bread by working for a popular high street bookmaker. More times than you would believe, parents would come in and ask about placing a bet on their child to accomplish a gargantuan lifetime achievement. These achievements ranged from becoming Prime Minister to scoring the winning goal in a World Cup final. Sadly we could only offer them dismal odds, but amazingly they would still strike the bet! The bets were always placed as a bit of fun with a smile on the parents' faces. ..and this got me thinking."
He went on to say: "What if there was a place where babies could be entered into a competition where they race to complete one of these achievements?..AND get a return on their money, much larger than any bookmaker could offer?.. AND all in the name of fun! That is when the Baby Fame Game was born."
So if anybody thinks their baby has the look of a future Albert Einstein, Roger Federer, Winston Churchill, or even Lady Gaga, they should visit http://www.babyfamegame.com and complete the entry form today.
###