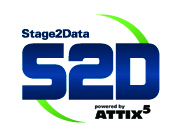 The backup systems used in schools, in many cases are extremely outdated. It's like using pen and paper and saying it's better than a laptop in class.
Oakville, Ontario (PRWEB) March 01, 2012
A statement has been released that sensitive pupil and staff data is still left exposed by many schools in the UK, Canada and the US, according to information storage experts at Attix5 and Stage2Data.
Securing school data is an extremely important issue. A breach of this sensitive data can lead to a serious loss of confidence in the school or much worse, the data falling into the wrong hands and being misused.
Despite this, the systems that schools use to backup information are, in many cases, extremely outdated. All school data from emails to sick records must be backed-up securely to ensure the safety of pupils and staff. Schools have two main options for backup; these are tape or cloud based backup. Stage2Data has also launched an on-site cloud synch appliance to meet school and Board data backup and recovery needs.
Surprisingly, over 25% of schools in the UK and a majority in the US and Canada are still using tape for backup purposes. Data storage on tape presents a number of unnecessary security risks. Firstly someone within the school still has to be physically responsible for the tape and for backing-up data to it. Also, the fact that tape is typically transported from one location to another poses added risks.
Jacques Swanepoel, CTO at Stage2Data explains the UK situation and suggests it is echoed here in North America, "Research shows that of the schools that are still using tape, 30% take the backup tape home and 35% leave the tape in storage at the school. Obviously this isn't ideal as it opens up the possibility of the data being lost or stolen."
In addition, tape is protected by just one password, making the data on it quite easily accessible if it falls into the wrong hands. Schools and other education institutes, just like other enterprises, are at risk from fraudsters and hackers.
Some schools outsource the storage of the tape, but this also comes with significant risk. Swanepoel quotes an Attix5 source in saying "The fact that the tape has to travel to and from the storage location is one problem. I've also seen situations where, for data recovery purposes, the incorrect tape has been sent back to the wrong client, meaning the data has fallen into the wrong hands."
Cloud based storage and the new on-site appliance available through Stage2Data avoids all of these issues. The backup is automated, the data is completely secure and it is easily retrievable. So, why aren't more schools switching to mirrored, disk to disk on-site backup?
According to Swanepoel, "Many schools are still concerned about security within the cloud, which is why we offer both an on-site option plus cloud based backup solutions. For maximum security. Attix5 has implemented a number of distinctive security measures into its system to provide complete peace of mind. Firstly it doesn't just backup one copy of the document but two, and these are kept in different locations via the cloud or on-site solution. This means that there are in fact three copies, the original one, plus the two copies that Attix5 store."
With secure cloud based backup or an on-site appliance option, there is no excuse for schools not to switch. Collier sums up: "The magnitude of vulnerability of storing data on tape is enormous. No matter what country they are in, schools cannot afford not to switch to secure cloud based or on-site appliance backup."
Company Stage2Data
Stage2Data is a privately held company founded by Jeff Collier and Jacques Swanepoel in 2008. The company is dedicated to working with Enterprise and SMB's to safeguard their data against disaster or loss using cloud based, disk to disk technology. Stage2Data is the Master Distributor for Attix5 in North America and is a recognized leader in backup and recovery. Stage2Data is headquartered in Oakville, Ontario with offices in the USA. For additional information about the company, please visit http://www.stage2data.com.
About Attix5
Stage2Data is the Master Distributor of Attix5 in North America. Attix5 is an international provider of secure data management, storage and restoration, specializing in virtualization and cloud based solutions. Its world-class data protection software uses FIPS-compliant Advanced Encryption Standard (AES) encryption for security and provides absolute peace of mind to listed Enterprises and SMEs across the world. Founded in 1999, Attix5 is headquartered in the UK with offices in South Africa.
# # #