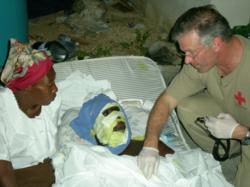 LAVE laser liposuction is a fantastic procedure that allows people to return to normal activity quickly.

David Vanderpool, MD
Brentwood, TN (PRWEB) March 01, 2012
LAVE MD, http://www.lavemd.com, announces the latest advance in laser liposuction with the development of LAVE Laser Liposuction. Using the latest advancements in laser liposuction, this technique combines the proven efficacy of laser liposuction and the expertise of LAVE MD with the latest temperature monitoring technique. Building on years of experience, LAVE MD medical staff have formulated state of the art techniques which focus on safety and efficacy. By implementing gentle tumescent anesthesia, patients enjoy this comfortable procedure without the complications or nausea of general anesthesia.
After the procedure, patients are able to return to work and normal exercise routines in two days.
LAVE MD was begun in 2003 to fund the non profit organization, Mobile Medical Disaster Relief, http://www.mmdr.org. Mobile Medical Disaster Relief provides medical care, clean water and food to those who are victims of natural and man made disasters.
###