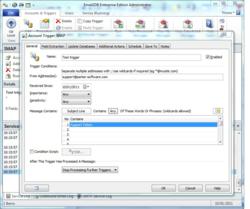 Orlando, FL (PRWEB) March 01, 2012
Parker Software are getting set to the lift the lid on their latest edition of Email2DB which will include a number of service enhancements increasing the popular software's capabilities.
Email2DB is used to automate business processes that occur when a business receives incoming messages and dynamically responds to things happening on the web, it used worldwide and customers include the likes of Xerox, Cisco, Adobe, Dell, BT, DHL and more.
Email2DB Version 3 will be major release and will include further integration options with popular applications to include Microsoft SharePoint, Azure, Exchange, Dynamics CRM, Salesforce, Dropbox, Facebook and Twitter.
Further enhancements will include greater processing capabilities and scalability options, and a datacentre edition aimed at enterprise accounts to provide high levels of redundancy, failover and increased processing capabilities.
Parker Software will also introduce Email2Cloud as part of the release, this will enable Email2DB to be run securely over the internet helping to provide organisation more flexibility, help reduce costs, increase storage capabilities, and improve employee mobility.
Final stages are currently being completed with an anticipated release date of Mid March.
###