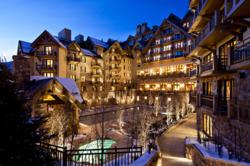 "The Four Seasons Vail staff makes us feel like family and the après ski lounge becomes an extra living room!"
Vail, CO (PRWEB) March 01, 2012
Situated at the base of one of North America's most acclaimed ski resorts, Four Seasons Resort and Residences Vail is celebrating its 1st anniversary this winter – the property opened one year ago in December.
Four Seasons Resort and Residences Vail has already received numerous accolades in 2011, including the coveted award for "Best Development Colorado, Highly Commended" by the America's Property Awards and Four Stars awarded to Four Seasons Resort Vail from Forbes Travel Guide. Additionally, The Spa at Four Seasons Resort Vail received Five Stars from Forbes Travel Guide.
Owners of the fractional and private Colorado mountain homes within the resort are looking forward to returning to all the comforts of home for their second year. From the personalized snacks pre-stocked in the kitchen, to the ski concierge who customizes their gear tuning, to the chef who knows the perfect dish to revive their post-ski energy, it feels as though they've already lived here for years. "No one else can recreate this level of service," said Christopher Bonacci, a residence club owner. "The Four Seasons Vail staff makes us feel like family and the après ski lounge becomes an extra living room!"
Four Seasons Resort and Residences Vail marks its first year being open with positive progress and an optimistic outlook. Growth in resort occupancy has increased over the past several months and Four Seasons is currently one of the leading resorts amongst its Vail competitors. In turn, with more people visiting the resort and experiencing the destination, sales opportunities for Four Seasons Residences Vail look increasingly promising.
The ultimate "home away from home" experience, the Vail luxury home owners can enjoy their personal residence to the fullest with access to the customized Four Seasons amenities and services within the larger resort, including:

Residence specialists to prepare pre-arrival residence accoutrements and activities such as family dinners, private guided mountain outings, grocery stocking for special meal plans and arranging an in-residence massage.
Flame Restaurant, where talented chefs consistently create an unforgettable menu of inventive dishes offering seasonal and locally-inspired cuisine daily and an extensive wine list including local vintages and international selections that complement every meal
In-Residence Dining around the clock from the Flame menu or featuring custom meals created by a Four Seasons chef in the owner's kitchen
14,000-plus sq. ft. full-service spa, and relaxation lounge with 13 treatment rooms, offering rejuvenating treatments, that incorporate natural, locally-sourced products, ranging from massages and facials to hair and nail services
75 ft. all-season saline outdoor pool, two whirlpools and grand outdoor fireplace
State-of-the-art fitness centre with nearly 2,200 sq. ft. of cardio machines, weight-training equipment and movement studios
Laundry and dry-cleaning services in addition to the laundry facilities included within each condominium
Ski Concierge, on-site and at the base of the Vista Bahn offering a variety of services including all rental needs on-site, top-of-the-line equipment that is tuned based on the day's conditions and skier preference and cold weather accessories from a local upscale retailer
Fireside Lounge, a cozy spot, with panoramic views of Vail Mountain, perfect for lounging by the fireplace or on the outdoor terrace while enjoying lunch or après ski snacks and drinks
Four Seasons signature Kids for All Seasons program plus Children's Activity Centre and a Young Adult Center
Personal Storage Services allowing owners to leave behind small personal possessions, such as photos and clothing. Upon return, all the items will be placed back in residence
Instant access to Vail's many outstanding boutiques, restaurants and outdoor adventure pursuits
Four Seasons Residence Club Vail includes 19 fractional residences sold in 1/12 deeded interests with annual usage throughout all seasons. Homeowners can choose from two-, three- and four-bedroom condominiums ranging in size from approximately 1,842 to 3,564 sq. ft.
Four Seasons Private Residences Vail offers 16 whole-ownership private residences including one-, two-, three-, four- and five-bedroom condominiums that range in size from approximately 1,600 to 5,750 sq. ft.
For more information on Four Seasons Private Residences and Residence Club Vail, please visit http://www.vailresidences.com or call 1 (877) 748-VAIL (8245).
About Four Seasons Private Residences and Residence Clubs
Four Seasons Hotels and Resorts has been a pioneer in branded residences since 1982. Today, with the movement to branded residences firmly established and gaining momentum yearly, Four Seasons remains an innovative leader, providing a portfolio of whole and fractional residences in the most desirable locations throughout the world. Four Seasons residences comprise two types of offerings: Four Seasons Private Residences, ranging from private homes adjacent to resorts to penthouse condominiums atop urban hotels, and Four Seasons Residence Clubs, a fractional ownership option featuring fully-appointed vacation villas as a worry-free alternative to year round vacation home ownership. All Four Seasons residential offerings provide owners with access to Four Seasons services and amenities which may include golf, spa, in-room dining, housekeeping, concierge service – everything that makes a Four Seasons experience so rewarding.
About Vail Development 09 LLC
Vail Development 09 LLC is an affiliate of Barclays Capital formed to own and develop Four Seasons Resort Vail.
###