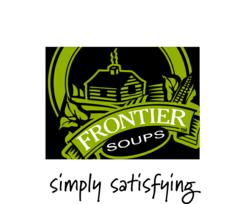 "We are hoping our review system encourages customers to pass on their secrets to successful soup meals."
Waukegan, IL (PRWEB) March 01, 2012
Frontier Soups™, a producer of all natural gourmet soup mixes, now will give customers the opportunity to post reviews and let others know about their favorite soups at http://www.FrontierSoups.com.
The new interactive product review tabs are available for all 33 varieties including 28 gluten free soup mixes, said Trisha Anderson, founder of Frontier Soups. To encourage customers to enjoy their favorites and try new varieties that they can review, the company's Baker's Dozen, which gives consumers their choice of 13 soups, stews, chili or chowders, is $67.50, a savings of 10 percent, and shipping is free on orders of more than $25 during March, Anderson said.
Frontier Soups Connecticut Cottage Chicken Noodle Soup, a comfort food favorite, is also specially priced this month at $4.95, $1.05 off the regular price. The soup brims with vegetables and shredded chicken, and corn-flour noodles make this chicken noodle soup a gluten free meal, she said.
"We are hoping our review system encourages customers to pass on their secrets to successful soup meals," Anderson said. "Most of our soup mixes have recipes for inventive variations, and our customers have been telling us for many years how our soup mixes help them use up leftovers, like an Easter ham bone in our split pea soup. Home cooks also have shared how they add more nutrition to their families' diets when they enhance our soup mix recipes with their own vegetables."
The soups also are designed to satisfy a variety of dietary choices, she said. In addition to having no added sodium, many of the soup mixes make vegetarian meals as prepared or have vegetarian options while 28 are gluten free, including the best-selling South of the Border Tortilla Soup and the Texas Wrangler Black Bean Soup, which also is a vegetarian soup.
Frontier Soups soup mixes are all natural with no added salt, preservatives or MSG. For more information about the company's 33 varieties, including 28 gluten free soup mixes, check online at http://www.FrontierSoups.com or call 1-800-300-7687 (SOUP.)
About Frontier Soups:
Frontier Soups™ has offered aspiring and accomplished home cooks a shortcut to healthy, homemade meals with 33 soups, stews, chili and chowders inspired by the finest traditions in American regional cuisine since 1986. The gourmet soup mixes, including 28 gluten free varieties, are available in such outlets as A Southern Season, Whole Foods, Central Market, The Fresh Market, Safeway, Great Harvest Bread Company and Omaha Steak stores, through national and Canadian distribution and online at http://www.FrontierSoups.com. The company is located at 895 Northpoint Blvd., Waukegan, IL 60085. More information is available online or by calling 1-800-300-7687 (SOUP.)
###