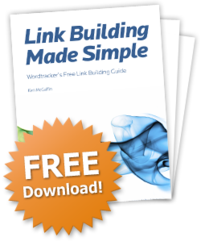 Quality link building is the most essential part of SEO ... This guide will show you exactly what you have to do
London, UK (PRWEB) March 01, 2012
It's people not websites that give links, so businesses running link building campaigns need to find the right people, persuade them to link and convert the traffic they generate into paying customers.
In this free publication, Link Building Made Simple, Wordtracker explains how to manage link campaigns effectively. The guide explains:

How to find quality link prospects, approach them and persuade them to link.
How links attract customers away from competitors.
How a simple change to home page links can dramatically improve traffic and conversions.
3 Quick tactics businesses can use right away to attract more links.
How to create content that turns websites site into link magnets
How to build lists of influencers, bloggers and journalists who will help spread the word about your business.
"Quality link building is the most essential part of SEO, and it can be easily learned by any business owner. This guide will show you exactly what you have to do," says author, Ken McGaffin of Wordtracker.
Link Building Made Simple, a free 100-page guide can be downloaded immediately from our link building for SEO page - http://www.wordtracker.com/academy/link-building
To find out why links are so important, check out these short video interviews (average 74 seconds) - http://www.wordtracker.com/academy/link-building-introduction-videos
###