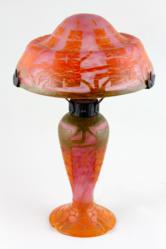 There are many lamps in addition to the vases, the top lot being a La Verre Francais, cameo glass table lamp with the "Ferns "or "Ash Tree" pattern
Beverly, MA (PRWEB) March 01, 2012
Important 20th Century Modern, Rare Lamps, and Art Glass Sale at Kaminski Auctions, Beverly, Massachusetts
Kaminski Auctions of Beverly, Ma will host its inaugural 20th Century Art Glass and Modern Design Sale on March 25th, Sunday starting at 10:00 am. Nathan Russell, Kaminski's new modern expert has pulled together a stunning collection of 20th century furniture and art while an important private collection of Art Deco Schneider and La Verre Francis glass amassed over 40 years from all over the world, by a prominent Boston collector will be the feature of this sale.
The art glass collection is truly special with something for every serious collector. The most sought after of pieces of Le Verre Francais have trees, animals, fish or geometric shapes. In 1995 Gerard Bertrand published the first book on La Verre Francais entitled "Schneider Maitre Verrier". This book was the first to educate collectors on the many different designs that existed, but not all of them. Sadly, the first editions were available only in French and not until much later was an abbreviated text in English even published. Known as cameo glass, it was produced by the Schneider glassworks company in Epinay-sur Seine from about 1918 through 1933.
Each piece in this collection bears the signature blue, white and red candy cane and is guaranteed authentic and of the period. The pieces are large, rare and have the unusual shapes coveted by knowledgable collectors.
There are many lamps in addition to the vases, the top lot being a La Verre Francais, cameo glass table lamp with the "Ferns "or "Ash Tree" pattern, base signed with blue, white and red candy cane mark. It stands 16 inches high and 9 ¾ in diameter and is estimated at $8000-$10,000. There is also a similar size lamp with the "Rose Savage" or wild rose pattern with the same pre-auction estimate.
There is a rare Tiffany lamp in the collection as well, a geometric table lamp with a bronze turtleback base signed Tiffany Studios, New York #1493 on the shade and #587 on the base. It stands 25"high by 201/4 in diameter. It is estimated at $8000-$12,000.
A remarkable Schneider Le Verre Francais cameo glass vase with applied orange glass decoration and white filigree cameo standing 17 ½ inches high, and signed is valued at $4000-$5000. Another monumental Le Verre Francais cameo glass vase in the Libellule or dragon fly pattern also standing 17 ½ inches x10 in diameter and with the blue, white and red candy cane signature is estimated at $4000-$5000.
Multiple other patterns are represented in the collection including vases with the lauriers pattern, ecailles or spirals, halbrans or young ducks pattern, cerises or cherries, digitalis or foxglove pattern., etolie or star pattern, papillons or butterflies pattern and many more.
The collection also includes some great sculpture from the Art Deco period . A Bruno Zach, bronze and ivory sculpture standing 23 inches high on a black marble base is estimated at $12,000-$14,000, while a Guiraud Riviere (1881-1947) of "Le Comet" in polished bronze on a marble base is estimated at $6000-$8000. J. Lormier, Panzeri and Raoul Lamourrdieu, A. Sadoux and many sculptors of the period are represented in the sale.
Here are some highlights of the Modern sale material. In addition to the Art glass and ceramics there will be a range of 200+ modernist objects, including Artwork, sculpture, lighting, furniture & accessories from 1900 to the 1980's. The following is a partial listing of the sale.
Late 1950's Verner Panton for Louis Paulson "Toupan" group of three aluminum globe pendant lamps
1960's Neil Small plexiglass lamp
1930's French modernist hall tree
1930's Manning Bowman Art Deco chrome & Bakelite coffee pot
1962 Austin Cox Enterprises for Alcoa Aluminum modernist chess set 1962
1950's pair of Arne Jacobsen Series 7 armchairs
C. 1960 Hans Wegner Danish Modern sofa
Pair of Thonet "Brno" chrome & leather armchairs
Pair of "Wassily" leather & chrome armchairs, Marcel Breuer design
Unusual pair of 1950's wire swivel rocking armchairs attributed to Salterini
Russel Woodard "Sculptura" outdoor set with glass topped table
1950's George Nelson for Herman Miller 4112 Steelcase desk
1950's Charles Eames for Herman Miller LTR strut table
Group of four 1970's Mario Bellini "Amanta" module chairs
1970's Jerry Johnson designed "Arcadia" table & chair set
Two Gae Aulenti for Knoll sofas
Group of six Vignelli Design for Knoll handkerchief chairs.
Ward Bennet for Bricknell sofa
Modern Saporitti leather sofa
Heritage Hendredon "Amerasian" mahogany coffee table
Alvar Aalto coffee table
Monumental Charles Eames for Herman Miller conference table
For more Information please visit our website at http://www.kaminskiauctions.com or call 978-927-2223 to register.
###