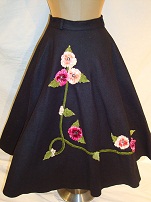 Greenwich, CT (PRWEB) March 01, 2012
In an effort to keep up with expanding demand for authentic vintage clothing, Sophia's Costumes of Greenwich, CT is expanding their inventory to accommodate a larger stock of vintage clothing and costume jewelry. The locally owned boutique is offering authentic pieces made in past eras in the absolute best condition possible for such distinguished garments. Stock will be expanded to include vintage jewelry and accessories in addition to the additional garments.
After a boom in celebrities wearing vintages dresses and accessories on the red carpet, vintage clothing has skyrocketed in demand with pieces doubling and tripling the prices that they commanded the years of their actual manufacturing. Fashion experts are citing the attention to detail in craftsmanship, and familiarity of styles of clothing from the 20's to the 80's as being key factors in the modern market's infatuation with vintage clothing.
Sophia's Costumes of Greenwich, CT is adding many new pieces to their already formidable vintage clothing selection to keep up with the growing demands. New pieces include gowns, cocktail dresses and even Asian dresses and robes from the 50's to the early 90's. All pieces added to the collection are inspected thoroughly to keep up with the boutique's high standards in garment condition, with respect to the piece's age. "I am very picky about the condition of my garments" remarks Sophia Scarpelli, proprietor of Sophia's Costumes, "My vintage clothes are not reproductions made to look old, but actually from the era or decade we list it as."
Expanded stock will included exquisite pieces of antique jewelry and antique accessories. Highlights of the added stock are beautifully decorative hats from the 40's to 60's, as well as moderately priced jewelry pieces from designers such as Yves Saint Laurent in mint condition.
Sophia's current stock of vintage clothing can be viewed online at http://www.sophiascostumes.com. More information on individual pieces or additional photographs will be supplied upon request.
About Sophia's
Sophia's Costume's is a one-of-a-kind gift and costume shop in Greenwich, CT. With costumes and gifts for any budget, Sophia's stock includes candles, vintage clothing, and affordable costume sales and rentals all year long with better customer service and quality of products that those pop-up Halloween stores that appear once a year. Come by Sophia's shop today for a truly unique purchasing experience!
###