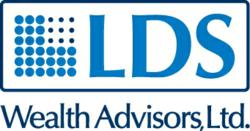 "Today, going paperless has so many benefits..." said Barry Link, CEO and President of LDS Wealth Advisors.
Wheaton, IL (PRWEB) March 01, 2012
LDS Wealth Advisors, an independent financial services firm, has announced an effort to scan all documents into an electronic document management system to allow them to eventually become paperless. This effort allows the organization to become more environmentally sound, more efficient, and most important to customers; more secure.
"Today, going paperless has so many benefits," said Barry Link, CEO and President of LDS Wealth Advisors. "Our IT staff is currently scanning all of our files into electronic document management software to allow instantaneous access for employees to all documents. This will increase our productivity and security, as well as prevent the use of paper in the future."
LDS Wealth Advisors provides management for personal and business assets. On a personal level, LDS provides retirement and estate planning, asset management, income tax planning, college planning and saving, long-term care, Medicare supplements, annuities, charitable giving strategies, IRAs, as well as life, health and disability insurance. On a business level, they provide services like executive compensation, business succession, pensions / 401(k), business insurance, employee benefits and investment management.
"Building a sophisticated financial plan, completely customized for a family or business, is a complex process. We have implemented a team approach to build these plans and service our clients," Link said. "We have over 60 years of experience between the partners on our advisory team. Recommendations for clients are thoroughly researched with numerous alternatives considered. By developing well-rounded, personalized financial plans, we bring our clients closer to reaching their goals."
For more information, visit http://www.ldswealthadvisors.com
About LDS Wealth Advisors:
LDS Wealth Advisors' mission is to positively impact the lives of its clients by providing personalized, objective financial advice and loyal service. The company is located in Wheaton, Illinois. With more than 60 years of experience between advisory partners, LDS Wealth Advisors thrives at performing extensive, ongoing research on insurance products, money managers, and alternative investment options. Securities & Advisory Services are offered through World Equity Group, Inc. Member FINRA/ SIPC. LDS Wealth Management and LDS Wealth Advisors are independently owned and operated.
# # #