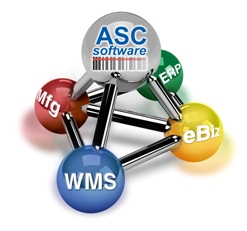 Dayton, OH (PRWEB) March 01, 2012
ASC Software is proud to announce added enhancements to the shop floor module of their ASC Trac ® solution. In addition to its already great features (listed below), the ASCTrac ® Shop Floor Module can now be used on any tablet, including Windows, Android, and iOS devices:

Flexible deployment with the ability to run on-premise as well as web-based.
Full integration with auto-ID technologies for verification as well as with ASCTrac ® WMS distribution and manufacturing systems.
Enhanced serial and lot tracking to comply with FDA regulations.
Complete insight into the life cycle history of serialized products.
Typical industries using the ASCTrac ® Shop Floor Module are manufacturers of food and beverage products, pharmaceutical, automotive, consumer goods, and medical device products. And these companies realize the following benefits:
Detailed and comprehensive tracking of goods, costs, and actual components provides enhanced insight for managers, helping improve business decisions and streamlining the sales process.
Automation of data entry saves time and eliminates manual errors helping manage the shop floor more effectively.
Flexible deployment options and NEW mobility features provide real-time access to important shop floor information.
Complete tracking and auditing of transactions ensures proper compliance with strict regulations.
ASC has years of experience in shop floor manufacturing to help you see through your industry pains. Learn more about ASCTrac Shop Floor on our website or contact us with questions.
ABOUT ASC:
Headquartered in Dayton, Ohio, USA, ASC has been a Warehouse Management System (WMS) solutions leader for more than twenty (20) years and offers a complete suite of supply chain solutions designed to solve complex distribution, manufacturing, logistics, and web eBusiness problems. Known as "ASC-Trac WMS," our "best-of-breed" WMS (warehouse management) and manufacturing solutions have been deployed by some of the most well-known companies in the world.
Rated as one of Frontline Magazine's Top 100 global supply chain companies, ASC's customer base includes more than 600 clients ranging from some of the largest companies in the world to many small and medium sized businesses. These companies depend on ASC solutions to operate in their mission critical areas of distribution and manufacturing.
###