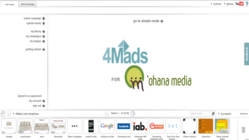 "Ad creation is the bottleneck in advertising. When advertisers cannot create engaging ads on time and on budget, the entire advertising ecosystem suffers as a result" says Alfredo Guilbert, CEO 4Mads
San Francisco, California (PRWEB) March 01, 2012
4Mads, the first self-service advertising platform, and Ohana Media partnered up to bring an user friendly and multi-integrated platform to all Ohana Media customers.
4Mads is an easy-to-use ad creation platform that helps advertisers to advertise more. Advertisers and users of all professional backgrounds can now create rich media advertising without any programing experience, thus cutting costs associated with hiring developers.
"Ad creation is the bottleneck in advertising. When advertisers cannot create engaging ads on time and on budget, the entire advertising ecosystem suffers as a result. For this reason, we founded 4Mads to help advertisers create rich media advertising in a cost-effective way," says Alfredo Guilbert, CEO of 4Mads.
Ohana Media, an audience network with a self-service platform that enables users to buy, manage, and optimize media across display, search, and social. Ohana dominates the SME ad network landscape in India and is rapidly expanding operations with advertisers around the world. With this new alliance, Ohana Media will strengthen their position on the market.
Guilbert also comments, "We are proud to partner with Ohana Media because together we are making it simple and affordable for medium enterprises to start doing display advertising".
In online advertising and marketing, ad creation is costly and time-consuming while ad serving, without relevant targets, can easily break a fantastic ad.
The partnership aims to solve this problem by fostering an environment where ad creation and audience network can work together seamlessly. 4Mads will operate as the ad creation platform where advertisers can create, deploy, and track rich media campaigns in a matter of minutes. This will significantly cut down time and production costs. Ohana will then provide the technology and network that enable advertisers to segment consumer intent data across channels and deliver highly relevant and targeted messages to consumers. The shared goal is to help advertisers advertise more while delivering the right ads to the right person. With this partnership, SMEs as well as larger corporations can benefit greatly from local advertising by creating rich media campaigns and targeting them in a personal and cost-effective way. After all, it takes two to make a great team.
###