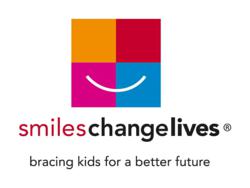 Giving someone a smile has a profound impact on their life. It opens so many doors while providing them a gift that keeps giving.
Denver, CO (PRWEB) March 01, 2012
A child's joyful smile is contagious. However, some children are afraid to smile because they are embarrassed by their teeth. In today's economy, this situation can be heartbreaking for families who do not have the resources to pay the full cost of orthodontic treatment.
Thanks to hundreds of caring orthodontists and one national charity, families have an opportunity to help their children obtain affordable orthodontic treatment. Smiles Change Lives (SCL) is now serving low-income kids in the Denver area thanks to the dedication of several local orthodontists.
These doctors have joined SCL to help provide better care to youth in the Denver area who cannot afford treatment and don't qualify for other assistance. The doctors will donate their time and talents to treat SCL-approved patients. SCL requires that each patient's family pay a $500 program fee in return for full orthodontic treatment.
"We became part of Smiles Change Lives to give back to our community by giving the gift of a smile. We truly believe that there is nothing better than helping someone to smile with confidence. There are many children from hard working families that simply cannot afford braces. Giving someone a smile has a profound impact on their life. It opens so many doors while providing them a gift that keeps giving. The results are life changing and long lasting," says Dr. Keith Kohrs of Kohrs Orthodontics.
SCL is actively seeking program applicants who meet these criteria:

10-18 years old
Household taxable income at or below 200% of the Federal Poverty Level
Crooked teeth and/or misaligned jaws
Good oral hygiene
"A smile may show outer beauty, but it also projects inner self-confidence and allows a child to grow in ways they will never fully understand. I believe all orthodontists do this line of work because of how it can impact a person's life. Just opening this door for a handful of patients will allow them to open many more doors for themselves in their future," says Dr. Mark Gregston of Gregston Orthodontics.
Interested families are encouraged to review the program's financial guidelines at http://www.smileschangelives.org/qualify. Educators, nurses, counselors and oral health professionals are encouraged to nominate or refer candidates to this program. Visit http://www.smileschangelives.org/apply to download an application in English or Spanish or call (888) 900-3554 to request more information or an application by mail.
Denver area orthodontists who have generously donated their time and skills to SCL include:
Dr. Hilary Nieberg Baskin
Dr. Mark Bentele (Colorado Springs)
Dr. Kevin Chapman
Dr. Jeffrey Collins
Dr. Nicole Eberle
Dr. Mark Gregston
Dr. Don Jorgensen
Dr. Keith Kohrs
Dr. Thomas Melcher
Dr. David Mershon
Dr. Barbara Moyer
Dr. Raj Patil
Dr. Daniel Rejman
Dr. Adam Timock
Smiles Change Lives (SCL) promotes and provides access to life-changing, essential orthodontic treatment to children from low-income families. With a growing demand nationwide, our vision is to provide access to braces for all youth suffering from crooked teeth and misaligned jaws. Since 1997, SCL has created more than 1,500 healthy smiles. With the support of 3M, our official orthodontic industry sponsor, SCL will be able to reach out to even more communities nationwide.
###