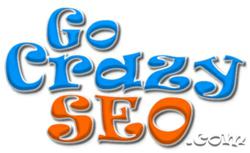 One of the main keys to achieving Internet marketing success is providing quality content. And that's the main ingredient we provide to get practices on the first page.
Phoenix, AZ (PRWEB) March 03, 2012
A top Phoenix SEO company, Go Crazy SEO, is achieving top search engine rankings for all of its medical and dental clients. The last five Internet marketing clients have all achieved top 5 rankings within 2 months on the first page of Google for competitive keywords.
As more prospective patients turn to the internet to seek information on the medical care, those ranking high on the first page for competitive keywords see an increase in their business with an impressive return on investment. According to the Pew Research Center's Internet and American Life Project, 59% of all adults search online for medical information, and over 10% look up information about health care providers.
Go Crazy SEO is run by individuals with extensive experience in both web design, on page site optimization, and off page Phoenix internet marketing expertise. The president of Go Crazy SCO, David Greene, is a medical doctor, who is an expert in content writing and oversees the content team.
Said Greene, "One of the main keys to achieving Internet marketing success is providing quality content. That is exactly one of the main things that our Arizona Internet marketing company provides. We have medical and dental practice clients all over the country who are achieving the same first page results with our first-rate content combined with our proprietary syndication techniques and formulas that are white hat and ethical. Nothing that we do involves buying links or fabricating results. It all involves hard work and time efficiencies on our end that medical and dental practices simply do not have the time or desire to worry about. Our clients want results, and we bring them traffic consistently. The phone rings."
The last five medical and dental clients have included a pain management practice, a cosmetic dentist, an orthopedic surgery group, a chiropractor clinic, and a weight loss doctor. All have been on the first page for competitive keywords within two months.
"These are not obscure keywords we worked on for these practices. We're talking about terms like Phoenix Chiropractor and Scottsdale Dentist, each of which is searched for by over seven thousand people a month according to Google Adwords. Our system works, and the results are organic and not in the paid listings,"
He continued, "We do pay per click as well along with website design and my content team will also write the on-page text for sites. That is time consuming and most Phoenix Website Design companies have no idea how to write that material so that it makes sense while performing well in search engine rankings simultaneously. We're not interested in having five thousand clients like some internet companies do. We want to bring our proprietary techniques to the benefit of a select number of medical and dental practices."
For a limited time, Go Crazy SEO is offering a free press release for new clients (PRWeb), which is the premier press release company in the country. That represents a $200 value. For more information, call Dr. Greene at (602) 677-8981 for more information and a free internet evaluation.
###